Mom and son adjust with matching insulin pumps
Today, we'd like to introduce you to our Medtronic Diabetes Ambassador, Katie, whose son was recently diagnosed with type 1 diabetes. Katie knew immediately how she wanted to proceed with her son's therapy. Today, she shares that experience with us.
There I was, standing in the bathroom at a sports complex staring at my glucose meter, the reading "over 600" staring back at me. Although I have lived with type 1 diabetes (T1D) for 34 years, this time the blood glucose reading wasn't mine — it was my precious eight-year-old son, Nicholas' reading. In that moment, my body went numb. My heart traveled to the base of my throat and sat there, making it impossible to swallow. My feet were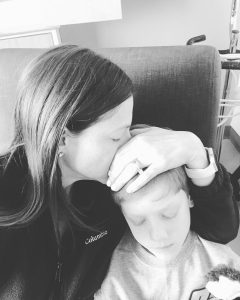 moving fast but my spirit was reluctant to catch up. I knew what this meant, and I didn't want to keep up with the reality of it all. I looked at Nicholas, his baby blue eyes staring up at me, asking if we were leaving to get the toy I had bribed him with so that I could poke his little finger. "No, sweet boy," I muttered.
The week leading up to this day on December 21, 2019, was something I reflected upon as I sat in the emergency room that afternoon. How did I miss the signs? How did we not see the weight loss? Why didn't I question his irritability? I thought he was just growing. He didn't have excessive thirst or urination, which I was so programmed to watch for. The one thing that should have alerted me to his only symptom stuck in my memory. I kept thinking about a conversation with Nicholas' teacher, Mrs. V. The week before, she mentioned she was concerned with his frequent trips to the bathroom. I assured her that he was probably just excited for Christmas break, and I was not concerned.
As my husband and I sat in room 616 at Omaha Children's Hospital, I started to write notes in a journal a friend had brought me. I was overcome with grief. I was connecting all the dots that
led us to this day — the conversations with Nicholas' teacher and all the nudges I had been feeling from God for me to pursue getting more involved in the T1D community. I spent the last year and a half working on my relationship with God so I knew his voice when I heard it. I knew I needed to turn to him, start counting my blessings and search for the light. I thought to myself, "I know T1D. I know the importance of advocating for yourself and your health." It was in that moment; I knew I could take this on for my child. And, I also knew I could count on Medtronic.
From the moment we stepped into room 616, I started requesting paperwork to get Nicholas approved for an insulin pump. My mind bounced around the options for a short time, since there were so many options available to us. But, the truth is, I can only speak to Medtronic. It's the only diabetes technology company I have ever used because I trust them and have had great success with them. I understand the MiniMed 670G insulin pump with CGM. So, I asked myself, why would I look anywhere else for my son?
Nicholas was adjusting to injections, but I wanted him to have the same experience on the pump that I have had. I wanted the pump and CGM to get approved before the end of the year, which was less than two weeks after his diagnosis. After several phone calls and paperwork, Nicholas was approved for the MiniMed 670G system! Although we were thrilled, we were still waiting on documents from the doctor, and it was getting down to the wire. As of December 31st, I did not think it would happen. But then Medtronic called at 4:00pm that day. The gentleman on the other end of the phone said, "I was on my way out of the office for the day when I received an email confirming your order for the MiniMed 670G system for your son…at zero cost to you." Tears. Joy. Gratefulness. God's hand. Thank you to the entire Medtronic team! Technology. Control. Peace of mind.
After six months of our new normal, Nicholas has exceeded all our expectations of life with T1D. He understands the MiniMed 670G system incredibly well, and he confidently handles the ups and downs of the disease. He is remarkable, and so is Medtronic. Our family is beyond grateful for the advancements in technology from a company that we love and trust.
Photo Credit to Colleen Dustin photography.
The testimonial above relates an account of an individual's experience with a Medtronic device. The account is genuine, typical and documented. However, this individual's experience does not provide any indication, guide, warranty or guarantee as to the response or experience other people may have using the device. The experience other individuals have with the device could be different. Experiences can and do vary. Please talk to your doctor about your condition and the risks and benefits of Medtronic devices.
Important Safety Information
MINIMED™ 670G SYSTEM
The Medtronic MiniMed™ 670G system is intended for continuous delivery of basal insulin (at user selectable rates) and administration of insulin boluses (in user selectable amounts) for the management of type 1 diabetes mellitus in persons, seven years of age and older, requiring insulin as well as for the continuous monitoring and trending of glucose levels in the fluid under the skin. The MiniMed™ 670G system includes SmartGuard™ technology, which can be programmed to automatically adjust delivery of basal insulin based on Continuous Glucose Monitor sensor glucose values and can suspend delivery of insulin when the sensor glucose value falls below or is predicted to fall below predefined threshold values. The system requires a prescription. The Guardian™ Sensor (3) glucose values are not intended to be used directly for making therapy adjustments, but rather to provide an indication of when a fingerstick may be required. A confirmatory finger stick test via the CONTOUR®NEXT LINK 2.4 blood glucose meter is required prior to making adjustments to diabetes therapy. All therapy adjustments should be based on measurements obtained using the CONTOUR®NEXT LINK 2.4 blood glucose meter and not on values provided by the Guardian™ Sensor (3). Always check the pump display to ensure the glucose result shown agrees with the glucose results shown on the CONTOUR®NEXT LINK 2.4 blood glucose meter. Do not calibrate your CGM device or calculate a bolus using a blood glucose meter result taken from an Alternative Site (palm) or from a control solution test. It is not recommended to calibrate your CGM device when sensor or blood glucose values are changing rapidly, e.g., following a meal or physical exercise. If a control solution test is out of range, please note that the result may be transmitted to your pump when in the "Always" send mode.
Pump therapy is not recommended for people whose vision or hearing does not allow recognition of pump signals and alarms. Pump therapy is not recommended for people who are unwilling or unable to maintain contact with their healthcare professional. The safety of the MiniMed™ 670G system has not been studied in pregnant women. For complete details of the system, including product and important safety information such as indications, contraindications, warnings and precautions associated with system and its components, please consult http://www.medtronicdiabetes.com/important-safety-information#minimed-670g and the appropriate user guide at http://www.medtronicdiabetes.com/download-library
Tags:
670G
,
child with type 1 diabetes
,
diabetes
,
diagnosed
,
MiniMed 670G system
,
type 1 diabetes