Multiple Daily Injections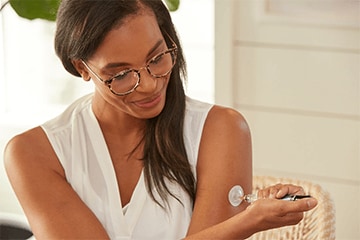 Your diabetes journey is unique. Whether you wear a pump or do multiple daily injections (MDI), use a continuous glucose monitor (CGM), or choose a blood glucose meter (BGM), the journey is yours. But you don't have to go it alone.
Smart† MDI from Medtronic is like GPS for people with diabetes who rely on MDI to stay in range. The smart MDI family combines a smart insulin injector, injection port, and connected glucose monitor to give you more information at your fingertips, letting you spend less time worrying about your treatment and more time doing the things you love.
What Is MDI?
Multiple daily injection (MDI) therapy is a common treatment regimen for diabetes, typically consisting of three or more injections of insulin per day. In many cases, MDI therapy includes an injection of long-acting insulin in the evening to work overnight and in-between meals and injections of rapid-acting or short-acting insulin prior to each meal.
One of the main advantages of MDI therapy is that it allows you to take your treatment into your own hands, letting people with diabetes take an active role in tracking and managing their blood sugar. Traditional MDI therapy works for many people with diabetes, but like any treatment plan it comes with upsides and downsides.
Within MDI there are multiple dosing methods, fixed dose insulin therapy requires MDI users to take the same amount of insulin at fixed points throughout the day. Although this encourages people with diabetes to maintain a healthy dietary routine, the rigid nutritional standards necessary for it to work mean less flexibility and personal choice in your diet.
What Is Smart MDI?
Traditional MDI therapy works for many people with diabetes but can carry a cognitive burden. Keeping up with injection times, insulin on board (IOB), pain and sensitivity from multiple sticks, carb counting, and other concerns take up mental space, and carrying around injectors and insulin, meters and strips, and alcohol pads takes up physical space.
Smart MDI addresses some of these burdens. It offers the freedom that makes MDI therapy appealing to many, while helping offload the mental and physical burden to an ecosystem of connected devices that do the heavy lifting for you.
The Smart MDI family includes:
InPen™ Smart Insulin Pen: A connected insulin pen that tracks insulin dosage and times administered to help avoid double-dosing and make it easier to stay in range and monitor long-term trends.
Guardian ™ Connect CGM: Smart continuous glucose monitor that helps people with diabetes stay on top of treatment by constantly tracking sensor glucose levels and helping users stay ahead of diabetes with alerts and notifications.
i-Port Advance™ Injection Port: The i-Port™ helps reduce the pain of MDI therapy — literally — by replacing more frequent skin punctures with a single patch that only needs to be applied once every three days.
The Smart MDI Therapy system:
InPen™ Smart Insulin Pen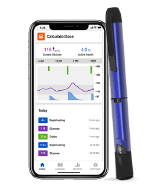 Reusable insulin injector
Battery lasts for one year and never needs charging
Long-acting insulin and blood glucose check reminder
Delivers half units
Provides reports that are shareable with your healthcare team
Perfect for active users and travel
i-Port Advance™ Injection Port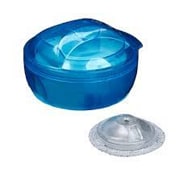 Injection port
Provides a single injection site for the InPen system
Can remain in the same location for three days
Only a small, flexible tube remains under the skin after placement
Comes with built-in inserter
Guardian™ Connect system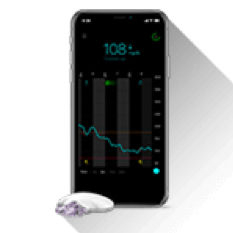 App-based glucose management system
Can share data with the InPen app
Tracks daily glucose and stores a user's glucose level history
Includes a wireless rechargeable transmitter
Can predict high and low glucose events up to an hour in advance†
Connects with care partners and healthcare professionals through the CareLink™ system platform
The Smart MDI Difference
For people with diabetes who aren't ready or interested in a pump, Smart MDI offers some of the advantages of insulin pumps while still offering the freedom of injections. The Smart MDI family works together to make staying ahead of diabetes easier. And with the ability to share data with your healthcare provider, it makes formulating the best treatment plan easier, too.
Getting Started with Smart MDI
Starting your diabetes journey is easy using any of the devices in the Medtronic family — whether that's minimizing injections with the i-Port Advance™ injection port, predicting high and low glucose events up to an hour in advance with the Guardian ™ Connect CGM†, or keeping track of your pen use with the InPen™ Smart Insulin Pen. Working together to ease the burden of living with diabetes or used as individual pieces of your personal diabetes roadmap, Smart MDI lets you worry less about the destination, and spend more time enjoying the journey.
† Smart CGM predicts future high and low sensor glucose events up to 60 minutes in advance.