Dealing with Sticky Situations: Tape Tips and Site Management
Today we've invited Miranda Lowery, a Clinical Territory Manager at Medtronic, to share her tips for tape and site management. Miranda also has personal experience living with type 1 diabetes and uses the MiniMed 770G system. She's lives in Georgia and knows a thing or two about the need for extra tape, especially when the weather heats up.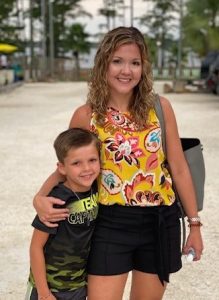 It's day 2 of my infusion set, and after a few workouts and sitting outside at my son's baseball game, I noticed the site was starting to peel at the edges. I pull a piece of tape out of my purse to add some extra sticking power to help get through the rest of the hot day.
Spring and summer in the South come early, but it doesn't have to be hot outside to potentially need extra tape for your insertion sites. I have found that workout sessions, lotions, clothing, and site placement can all impact how long the site stays securely taped to your skin.
If you find yourself in some of these sticky situations, it's best to be prepared so you can fix it and get on with your day. These are the tips that help with my site management:
I clean my skin with an antiseptic wipe before inserting a new site. This will also help clear away any lotions or oils on the skin that may prevent the tape from sticking well.
Sometimes I also use a skin prep wipe such as IV Prep Wipes to help the tape stick better. For my infusion set, I use it right before insertion. But for my CGM, I make sure to only use IV Prep after the sensor has been inserted and before I place the oval tape*. Wiping the area around the sensor can help the oval tape better adhere to the skin.
It's important to avoid overusing sites. It's so easy to have favorite spots to place infusion sites and sensors, but the reality is that skin needs time to heal.
When I know that I'll be outside a lot during the summer, I have a few different tapes that I use for an extra level of sticking power. Depending on what I will need, I use IV3000 tape, StayPut Medical adhesive, and GrifGrips medical tape. (It can also provide a fun way to dress up my insertion sites!) If I'm ever having issues, I remember this mantra: When in doubt, I change it out! If I notice elevated blood glucose that does not start to come down after one hour, then I change the infusion site (just in case I have a kinked cannula or bad absorption site.) With that said, I make sure to be prepared. I carry an extra infusion set, a reservoir, rapid-acting insulin, alcohol wipes, and tape in case something happens while I am out living my life.
Editor's note: Here are some helpful links if you find that you still need some extra help. Your healthcare team may be a good resource for you, too.
*Remember not to insert a sensor after using an adhesive wipe (like IV Prep Wipes) or a skin barrier wipe (like SKIN-PREP Wipes). Inserting a sensor after using these wipes can affect your sensor's ability to work. Use the bullseye method to avoid having the sensor go through the prepped skin. Wipe in a circular motion but leave a small circle of skin bare at the center of the circle, so you can safely insert your sensor through the bare alcohol-cleaned skin.
The opinions expressed in this blog do not take the place of medical advice or guidance. Please reach out to your healthcare team if you have for questions or concerns about your diabetes management.
IMPORTANT SAFETY INFORMATION:
Medtronic Diabetes Continuous Glucose Monitoring (CGM) Systems
The information provided by CGM systems is intended to supplement, not replace, blood glucose information obtained using a home glucose meter. A confirmatory finger stick is required prior to treatment.
Insertion of a glucose sensor may cause bleeding or irritation at the insertion site. Consult a physician immediately if you experience significant pain or if you suspect that the site is infected.
Please visit www.medtronicdiabetes.com/about/safety.html for additional details.
Infusion Sets
Infusion sets are indicated for the subcutaneous infusion of insulin from an infusion pump. Infusion sets are indicated for subcutaneous use only and not for intravenous (IV) infusion or the infusion of blood or blood products. Inaccurate medication delivery, infection and/or site irritation may result from improper insertion and maintenance of the infusion site. Before insertion, clean the insertion site with isopropyl alcohol. Remove the needle guard before inserting the infusion set. If using this infusion set for the first time, do the first set-up in the presence of your healthcare professional. Do not leave air in the infusion set. Prime completely. Check frequently to make sure the soft cannula remains firmly in place as you may not feel pain if it pulls out. The soft cannula must always be completely inserted to receive the full amount of medication. If the infusion site becomes inflamed, replace the set, and use a new site until the first site has healed. Replace the infusion set if the tape becomes loose, or if the soft cannula becomes fully or partially dislodged from the skin. Replace the infusion set every 48-72 hours, or per your healthcare professional's instructions.
Tags:
cgm
,
continuous glucose monitor
,
diabetes tips
,
infusion set
,
insulin pump
,
lifestyle tips
,
sensor tape
,
site management
,
summer