CareLink™ Connect app training
For care partners, this app helps keep everyone in the loop. Up to five people can now follow a person using an insulin pump and receive high and low notifications.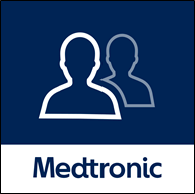 How to download & install the app
Download via Apple App Store for iOS compatible phones and at Google Play for Android compatible phones.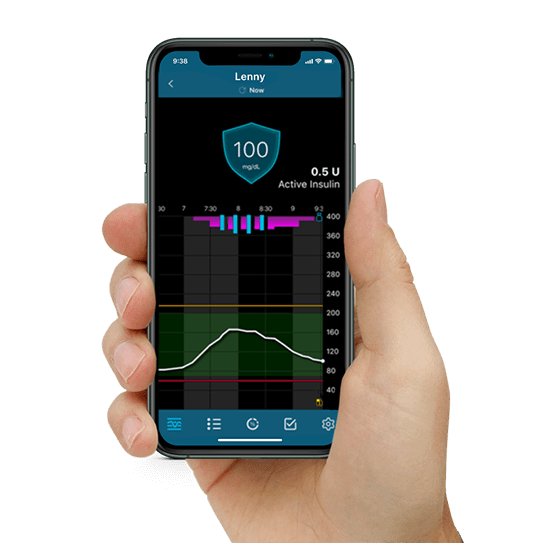 Overview & start-up
1. Overview
For people with diabetes
When using the MiniMed™ Mobile app, up to five care partners can view and receive alerts through the CareLink™ Connect app
User needs to manually provide CareLink™ Personal username to care partners
Must accept care partner request to follow (will appear in CareLink™ account once care partner sets up app)
For care partners
Securely view glucose levels, graphs, trends, and high or low glucose alerts anywhere, for greater peace of mind
Ability to view pump data
Be more informed and supportive, without being intrusive
Available for either iOS and Android™ platforms
Informed of alerts and notifications
Ability to follow up to 5 Medtronic customers
2. Start-up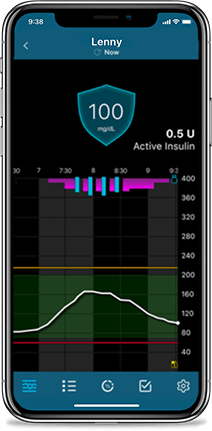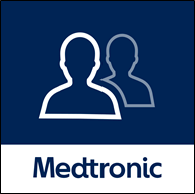 Care partners download the CareLink™ Connect app from the Apple App Store® or Google Play™ store.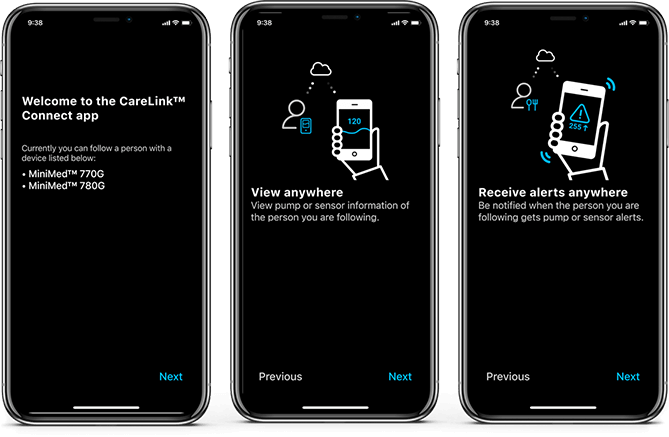 The app will guide the care partner through start-up screens which give an introduction on app features.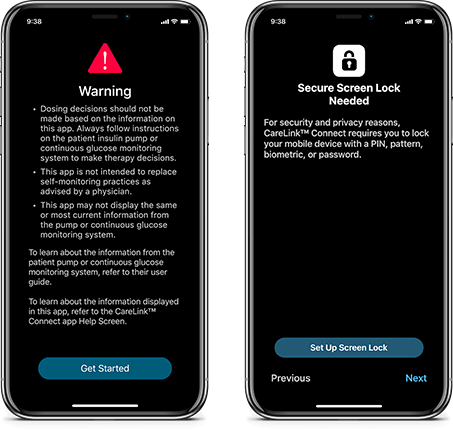 A dosing disclaimer warning must be acknowledged and a Secure Screen lock must be set up during initial App start up.
Note:
The CareLink
™
Connect app is not intended to replace the real-time display of continuous glucose monitoring or insulin pump data on the pump users' primary display device (i.e., the insulin pump). All therapy decisions should be based on the primary display device.
Time in Range data reflects the last 24 hours and requires a minimum of one sensor glucose (SG) value to display any data.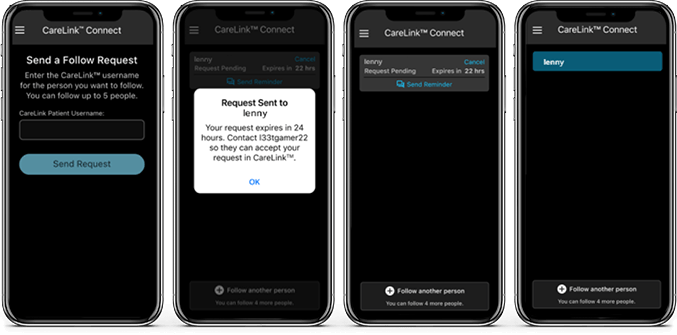 Next, the care partner must send a follow request by inputting the username of the CareLink™ Personal account (provided by pump user). The pump user must accept this request within 24 hours in their CareLink™ account.
Note:
Pump user will receive an email notification stating they have a follow request pending and must approve the request via their CareLink
™
Personal account or MiniMed
™
Mobile app. Follow requests must be approved within 24 hours or needs to be resubmitted.
Overview of screens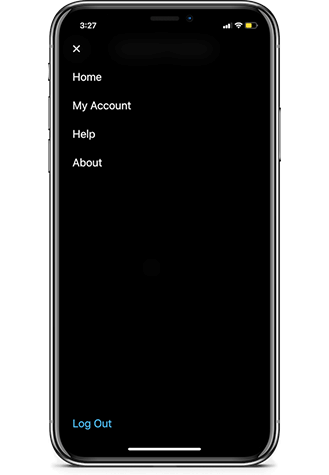 Menu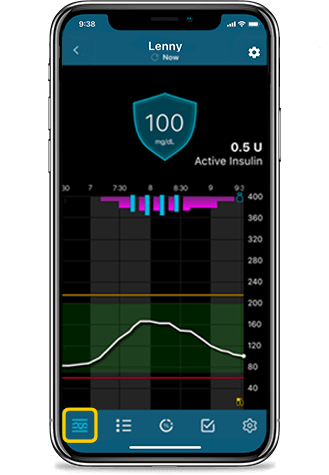 Home screen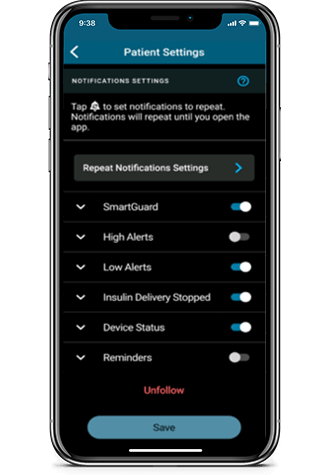 Notifications settings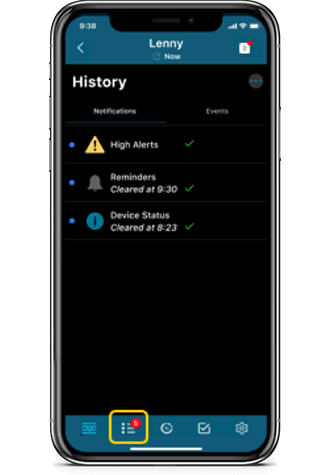 History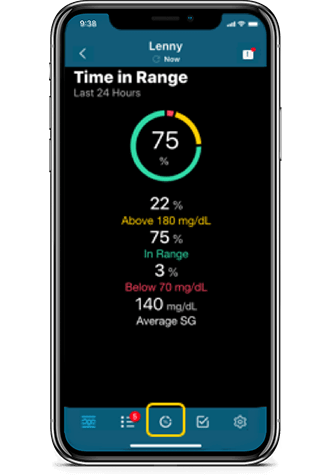 Time in range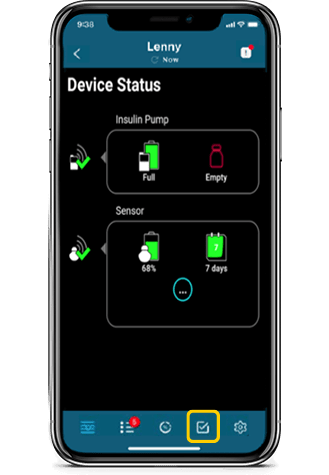 Device status
System notifications
Notifications should occur when app is in foreground or background
If notifications are not received by care partner:

Ensure app is open (not force closed)
Ensure notifications are set up correctly in app

Tap on the Gear Icon
Tap the alert category
Choose which to receive and whether a delay is desired

Check phone setting to ensure notifications for the app are turned on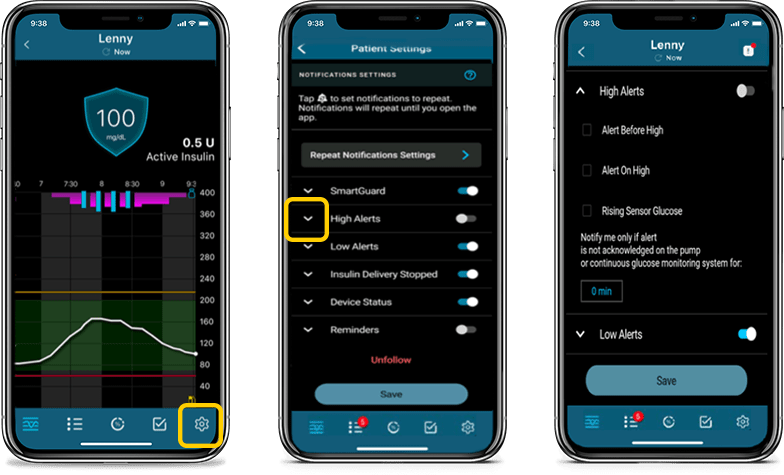 Integration with CareLink™ software

For the CareLink™ Connect app to receive notifications and data:
The MiniMed™ Mobile app must:
Be within 20 feet (6 meters) of the pump
Have internet connection
Be logged in CareLink™ Personal
Have Sync to CareLink™ option turned on
The CareLink™ Connect app must:
Have internet connection
Be logged into CareLink™ Personal
Notifications appear when the MiniMed™ Mobile app:
Is too far away from pump
Has no internet connection
Is logged out of CareLink™ Personal
Has the Sync to CareLink™ feature off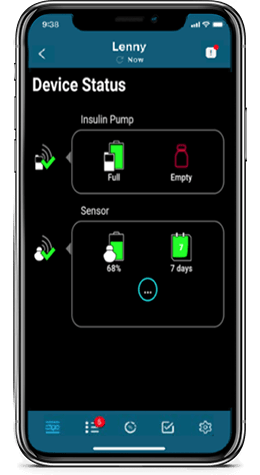 Most recent data appears for 15 min
- No banner appears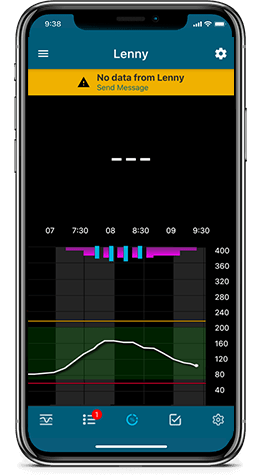 After 15 minutes, data fields are dashed
- banner appears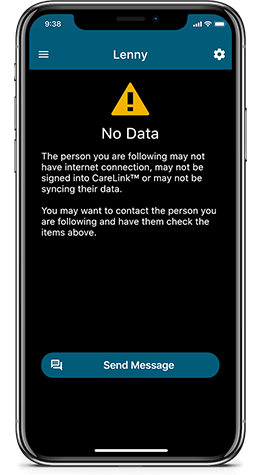 No data message
>24 hours
Frequently Asked Questions