BASIC SETUP REQUIREMENTS

Pump & App Requirements:

The MiniMed™ 770G pump needs to be within 20 feet of the MiniMed™ Mobile app
The app needs to be open, in the foreground or background
The MiniMed™ Mobile app displays pump and sensor data on a compatible smartphone through a Bluetooth® connection

SMARTPHONE REQUIREMENTS To communicate to CareLink™ software through the app

An internet connection
Sync to CareLink™ option turned ON
Stay logged into the CareLink™ software (check once weekly to make sure you are logged in)
Keep the app open (either in foreground or background)
In addition, the requirement for the pump and app to be within 20 feet as stated above

Turn off "automatic updates" on your phone

TO DISABLE & MANUALLY UPDATE ON ANDROID™

Go to Settings > Software Update
Toggle "Download updates automatically" to off position
Choose "Download updates manually" to update software only after checking Medtronic website to ensure compatibility with the MiniMed™ Mobile app

TO DISABLE & MANUALLY UPDATE ON iOS

Go to Settings > General > Software Updates
Tap Automatic Updates
Turn toggle to the "off" position
Check Medtronic website to ensure compatibility with the MiniMed™ Mobile app
Go to Settings > Software Update
Tap Download and Install
OVERVIEW OF SCREENS
Home Screen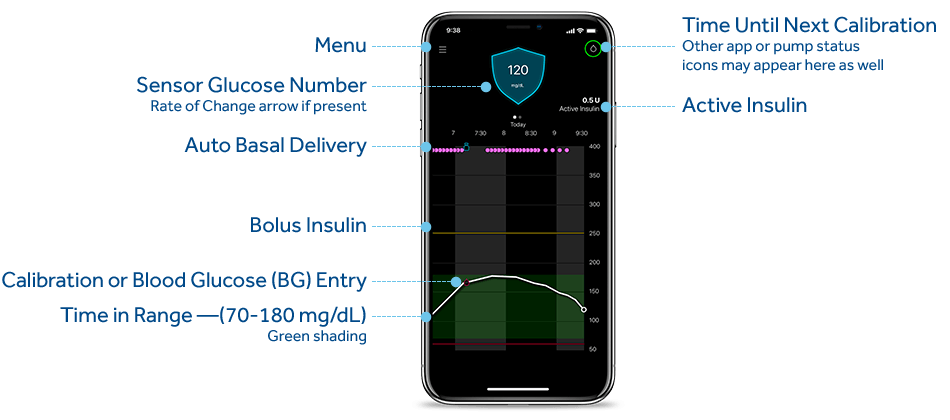 Time in Range Screens
If using continuous glucose monitoring (CGM), swipe left to access time in range data and graphs for the last 24-hours.
Time in Range (TIR) data reflects the last 24 hours and requires a minimum of one sensor glucose (SG) value to display any data.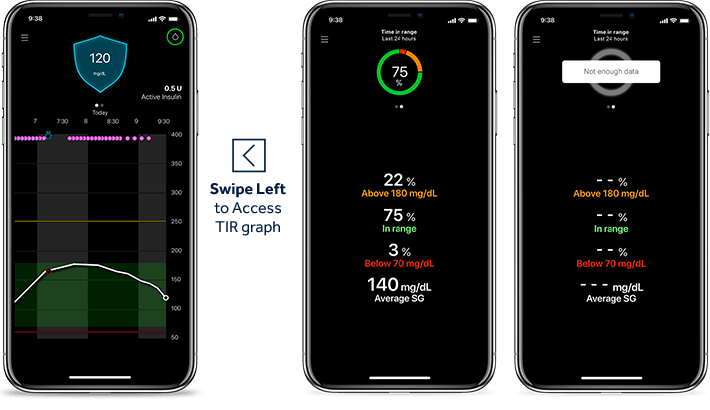 SYSTEM NOTIFICATIONS
The SYSTEM STATUS ICONS on the Menu screen show you the status of your pump and any additional paired devices. The status icon appears on the Home screen, if any status needs attention.



Pump Connection to the app
Transmitter Connection to the pump
Pump Battery
Transmitter Battery
Reservoir Units
Sensor Life

* These images are similar to pump icons

Notifications must be on to receive pump alerts, alarms and reminders from the pump.



In order to receive notifications in the form of:

ALERTS
ALARMS
MESSAGES
REMINDERS

Notifications from the pump must be toggled ON!

When repeat notifications is on, app notifications will repeat every minute

Notifications basics:


Notifications will appear at the top of the Home screen in the app
When app isn't opened, notifications will appear as all notifications from apps appear
All alerts and alarms can be dismissed on the app, but the alerts and alarms can ONLY be cleared on the pump
If Repeat Notifications is on, the notification will repeat every minute
If notifications are off or the phone is set to Do Not Disturb, notifications will not be received through the app
CARELINK™ SOFTWARE & CARELINK™ CONNECT APP
Pair device
Opens pump pairing screen
Only one pump can be paired to the app
About
Contains system data and a link to the user guide
Remember
The mobile device must be connected to the internet (WiFi/data) to send data to the CareLink™ system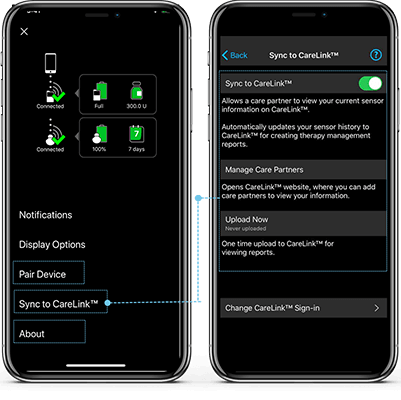 SYNC TO CARELINK™
MiniMed™ Mobile app can sync to CareLink™ automatically or manually:
Enabling Sync to CareLink syncs data automatically every five minutes
Upload Now allows a manual sync
Use the Manage Care Partners tab to access the CareLink™ website
If you are logged out of carelink™ personal in the app:
Care partners will not see your data or receive notifications
Your healthcare provider cannot access data/reports
Tap Continue on the screen to log back into CareLink™ Personal
Tip: Check once weekly to ensure you are logged into CareLink™ Personal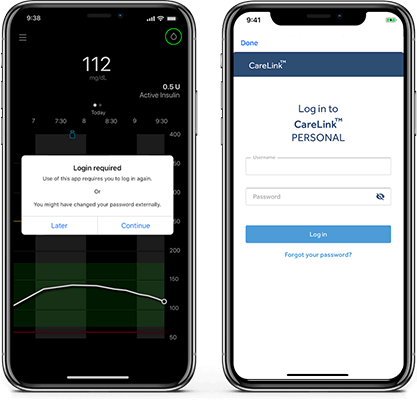 Frequently Asked Questions
The Bluetooth® word mark and logos are registered trademarks owned by Bluetooth SIG, Inc. and any use of such marks by Medtronic is under license.
Android is a trademark of Google LLC.