Manage Settings Error
Delivery stopped. Backup settings cleared from Manage Settings. Current settings are working properly. Select OK to restart. See User Guide.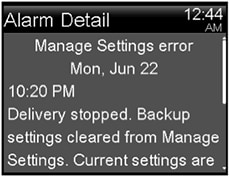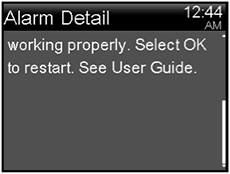 What has happened: A pump error has occurred, and you need to restart your pump. Your backup settings have been lost, but your current settings are unchanged.
Next steps:
Select OK to restart your pump. Your current settings are unchanged. Only your backup settings are lost
When the pump restarts, follow instructions on the pump display
If the pump was delivering a bolus or filling the cannula, check Daily History and evaluate your need for insulin
Consider saving your current settings