Cannot Connect Device
This device is incompatible with your pump. See User Guide.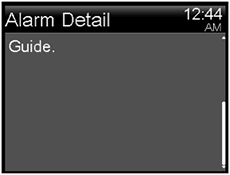 What has happened: You may be trying to connect a device that is not compatible with your pump or you are trying to connect a transmitter to your pump but another transmitter is already wirelessly connected to your pump.
Next steps:
Select OK to clear the alert
Check the list of devices that are compatible with your pump in Additional 630G system devices, on page 19 of your User Guide
If you are replacing your transmitter, make sure that you first delete the old transmitter from your pump before you try to connect your new transmitter. Only one transmitter can be connected to your pump. For details, see Deleting the transmitter from your pump, on page 182 of your User Guide