Exiting Auto Mode
Device: MiniMed™ 670G insulin pump (MMT-1780K)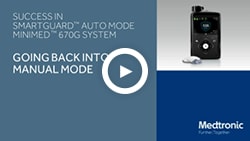 Under certain conditions, your pump will exit Auto Mode automatically:
After it has been in Safe Basal for 90 minutes, and the condition that cause Safe Basal has not been resolved.
After certain pump alarms that require you to take action with your pump and monitor your blood glucose (BG) readings. Alarms that cause the pump to exit Auto Mode include High SG Auto Mode Exit and Insulin flow blocked.
To respond to this alarm, or any like this:
Read the message on the first screen.
Press down to finish reading the message.
Follow the instructions in the message.
For more information about responding to alarms please view the Alerts and Alarms Quick Reference page
Note: If your pump has exited Auto Mode and you want to use the Low Management Suspend before low or the Suspend on low feature, you need to go to the SmartGuard Low Setup screen and turn the feature on. For instructions, see Setting up your Low Setup in Getting Started with Continuous Glucose Monitoring. If you want to go back into Auto Mode, review the instructions on this page.
You can manually exit Auto Mode and return to Manual Mode at any time.
To manually exit Auto Mode:
Press Select.
Select Options.

Select SmartGuard.

Select Auto Mode to access the Auto Mode screen.

Select Auto Mode again to turn Auto Mode off.

Select Save.