Airplane Mode
Device: MiniMed® 670G insulin pump (MMT-1780K)
Airplane Mode temporarily stops wireless communication with your pump. Use this mode during airline travel when you are instructed to turn off wireless devices.
WARNING: Do not rely on sensor-enabled features, such as Auto Mode or SmartGuard, when Airplane Mode is on. The sensor-enabled features do not work while Airplane Mode is on because the pump does not receive sensor readings from the transmitter. When using Airplane Mode, always rely on your blood glucose (BG) values when making therapy decisions to avoid hypoglycemia or hyperglycemia.
To turn on or turn off Airplane Mode:
1. Press Select and go to the Airplane Mode screen.
Options > Utilities > Airplane Mode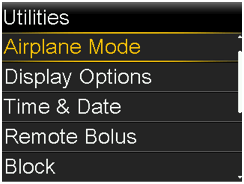 2. Select Airplane Mode to turn the feature on or off.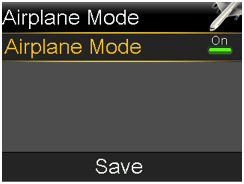 3. Select Save.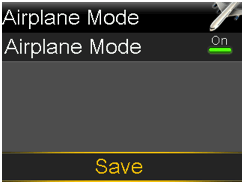 When Airplane Mode is turned on, the Home screen shows the Airplane Mode icon

in place of the Connection icon.