Using the Bolus Wizard® Calculator to Deliver a Normal Bolus
Device: MiniMed® 630G insulin pump (MMT-1715K)
A Normal bolus provides a single immediate dose of insulin. You can use a Normal bolus to cover food intake or to correct a high BG meter reading. You cannot access the Reservoir & Tubing, Insulin Settings or Sensor Setting menu during a Normal bolus delivery.
To give a Normal Bolus:
1. For a correction bolus or a food bolus with a correction, use your BG meter to check your blood glucose. For a food bolus only, skip this step.
2. From the Home screen, select Bolus and then Bolus Wizard. The Bolus Wizard screen shows your current BG meter reading and any insulin that is still active from previous boluses.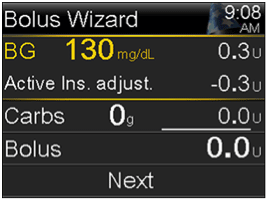 3. If you are not using a wirelessly connected compatible meter, you can select BG to manually enter your BG meter reading.
4. For a food bolus, select Carbs to enter the carb count of your meal. For a correction bolus where no food was eaten, leave the Carbs value at 0.
5. Your calculated bolus appears in the Bolus field.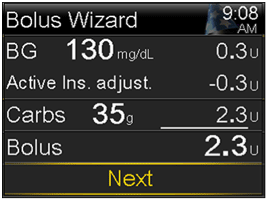 If you want to change the bolus amount, select Bolus and make any desired adjustment. If you change your bolus amount the word "Modified" appears next to the new bolus amount.
6. Select Next to review your bolus information. Your bolus amount appears.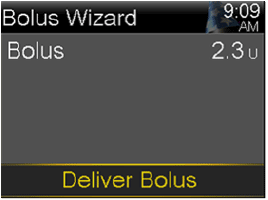 7. Select Deliver Bolus to start your bolus. Your pump beeps or vibrates and displays a message when your bolus starts. The Home screen shows your bolus amount as it is being delivered. Your pump beeps or vibrates when your bolus is complete.