Suspend on Low
Suspend on low. Delivery stopped. Sensor glucose XXX mg/dL. Check BG.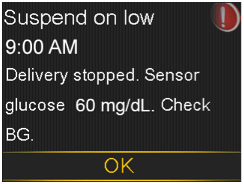 What has happened: Your SG value is at or below the low limit your specified.
Next steps
Select OK to clear the alert.
Check your BG. If necessary, treat your BG as directed by your healthcare professional.