Sensor Signal Not Found
Sensor signal not found. Did transmitter light blink when connected to sensor?
What has happened: The pump has still not received a signal from the transmitter.
Next steps
When you reconnected the transmitter to the sensor, did you see a blinking green light on the transmitter?
Select Yes or No and follow the instructions on the screen.
Sensor signal not found. See User Guide.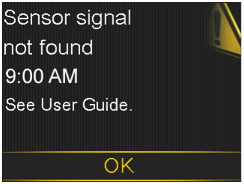 What has happened: After multiple attempts, the pump failed to detect the transmitter and is unable to receive sensor signal.
Next steps
Select OK to clear the alert.
Repeat the connection process. Remove the transmitter from the sensor for about ten seconds, and then reconnect it to the sensor.
It can take up to 15 minutes for your pump to find the sensor signal.
Move your pump closer to your transmitter to improve reception.
Make sure you are away from any electronic devices that might cause interference, such as cellular phones and other wireless devices.
If your pump still cannot find the sensor signal, call the 24 Hour Helpline for assistance.