Cannot Find Sensor Signal
Cannot find sensor signal. Disconnect and reconnect transmitter, then select OK. Notice if transmitter light blinks.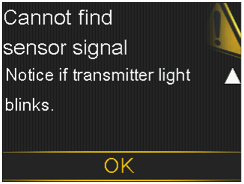 What has happened: The pump has not received a signal from the transmitter.
Next steps
Disconnect and reconnect your transmitter and sensor.
See if the light on your transmitter blinks when connected to the sensor. You may need this information for troubleshooting later. Select OK. Your pump searches for your sensor. If your pump receives a signal from your sensor, you do not need to do anything else. If your pump does not receive a signal from the sensor, another message appears to let you know.