BG Not Received
BG not received. Place pump close to transmitter. Select OK to resend BG to transmitter.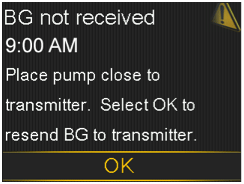 What has happened: The transmitter was unable to receive the calibration BG meter readings from the pump.
Next steps
Move your pump and transmitter closer together.
Select OK. Your pump tries again to send your BG to your transmitter for sensor calibration.