Alert on High XXX mg/dl
Alert on high XXX mg/dL. High sensor glucose. Check BG.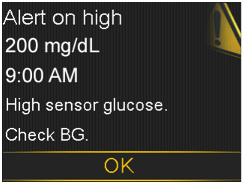 What has happened: Your SG value is at or above your specified high limit.
Next steps
Select OK to clear the alert.
Check your BG.
Follow instructions from your healthcare professional and continue to monitor your BG.