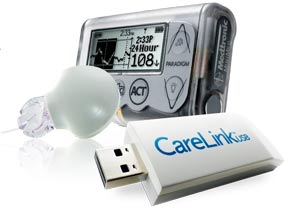 MiniMed Paradigm® Revel™ Insulin Pump
The Revel Insulin Pump was first introduced in Spring of 2010 and is the second generation of the Medtronic insulin pump with built-in CGM. The Revel Insulin Pump can give you more flexibility by allowing you to customize your insulin delivery to meet your specific therapy needs.
Continuous Glucose Monitoring
The Medtronic CGM system provides frequent glucose readings so you always know where your glucose levels are and where they are heading. CGM combines a transmitter and glucose sensor that will automatically send your glucose information to your Revel Insulin Pump. We also offer a stand-alone CGM device called the Guardian® REAL-Time System that continuously displays your glucose levels without an insulin pump.
NEW mySentry™ Remote Glucose Monitor
mySentry enhances the unique benefits of using the integrated Paradigm Revel System by providing added protection at nighttime. The first remote glucose monitor, mySentry features a large color screen that allows you to see important insulin pump and sensor status information and hear the same alerts and alarms displayed on the Revel insulin pump — all at your bedside.
CareLink® Personal Therapy Management Software
CareLink Personal is a comprehensive tool that gives you greater insights to understand your personal insulin delivery and glucose patterns. When combined with insulin pump therapy and CGM, CareLink software makes it easier for you and your doctor to make therapy adjustments for your specific needs, helping to improve your glucose control (A1C)1
Our Focus is You
At Medtronic, everything we do is focused on you. From patient training to insurance assistance, to our 24-Hour HelpLine, we're more than just the leader in diabetes innovation; we're your partner for life.
IMPORTANT SAFETY INFORMATION >
---