Running 7 Marathons on 7 Continents in 7 Days – TWICE!
When I first heard of Linda's desire to run 7 marathons on 7 continents in 7 days, I was so inspired. When I learned this was the second year in a row, she was planning to do this, I was in complete awe! I was lucky enough to be in close contact with Linda's husband throughout her journey and was fascinated by her drive and determination. Today, I asked Linda to share her story with you all.
After completing the 2019 World Marathon Challenge (WMC), my husband, Eric, asked if I would ever do the race again. My answer… YES, PLEASE! However, the race entrance fee is expensive and I would need to find a sponsor if I was going to be serious about running this race again.
Six months before the start of the 2019 WMC, I had upgraded my insulin pump to the MiniMed 670G insulin pump with CGM, so I reached out to Medtronic about the potential to sponsor me during the 2020 WMC. I wanted others living with diabetes to see that they too, can do extraordinary things even with T1D! After talking with Medtronic, it seemed like a perfect fit to sponsor me because my story and life aligned so nicely with their motto: Live More, Worry Less.
Preparing for the First Marathon:
I arrived in Cape Town, South Africa on February 3, 2020 and met up with some of the other runners to tour the city. I also found out that unfortunately, 6 runners from China had to drop out of the race due to the Coronavirus.
The plan was to head to Antarctica at 6 p.m. on February 5th, run the first marathon and then head back to Cape Town and run the second marathon at 4:30 a.m. on the 6th. However, the weather was predicted to be poor and we were told we may have to change from flying a Boeing 757 to a Russian Ilyushin (IL-76) cargo plane. With how windy it was supposed to be, we were told we needed to bring our buffs (a stretchy material that is breathable, lightweight and
moisture-wicking). After waiting at the airport until about 11 p.m. on the 5th, we were told the pilot said it was too dangerous. We went back to the hotel and went to bed about 1 a.m., with a wake-up call at 6 a.m. on the 6th to see if we'd be heading to Antarctica. When we woke up, we were told that we wouldn't be flying to Antarctica but would run the Cape Town marathon that night at 7 p.m. and would leave for Antarctica the next morning. I changed into my Cape Town clothes, grabbed water and I also needed to change my sensor before the first marathon started.
February 6, 2020 – Cape Town – Marathon #1
The race started at 7:12 p.m. local time and I felt good. The wind was tough at about 28 mph with gusts about 35-40 mph, but we set up the bags we brought for each
race, with the things we need during and after the race, down in a secured area and lined up for the start of the race. As the windy marathon progressed, another runner, Beck and I slowed down. I had belly issues after a short drop in my blood glucose levels. My blood glucose (BG) at the beginning of the race was approximately 130 mg/dL and I ended the race at approximately 120 mg/dL. I was able to correct it easily and made a mental note to be more careful about looking at the foods I was eating and the amount of high fat in each meal. I finished the race in 4:53:57. After the race, I took pictures and headed to the hotel to take a shower since we had mud and sand everywhere!
February 7, 2020 – Antarctica – Marathon #2
I had breakfast at the hotel and headed to the Winchester Hotel to board the bus to the airport for the flight to
Novolazarevskaya Station (Novo), Antarctica. Novo is an actual Russian weather station.
We knew we were taking a Russian Cargo plane, but it was an actual commercial cargo plane used for the military. During the flight, people were sleeping on the cargo plane floor.
Although we landed around 6:30 p.m., due to the severe weather conditions, the organizers wanted to adjust the course. So, for three hours, we waited and when it was finally ready, they told us they changed the course from 6 loops to 14 loops. The organizers and the Russian staff felt it was safer for all of us to be in the
headwind for a shorter period of time. The race started at 9:45 p.m. and I was wearing about 4 layers, 2 pairs of socks, balaclava, hand and feet warmers, a buff, a hat, 3 pairs of gloves (including a pair of latex gloves that the doctor handed out to help prevent frost bite), my waterproof shoes, my pump, my iPod, and watch. It was so cold and windy. I tried to drink from my water bottle during the race, but it was frozen. When we finished, there was no tape to run through and the wind continued to blow harder. The organizers said they couldn't hold the tape for us to run through!!
I finished the race in 7:06:41 but after the race, I realized my buff was frozen, I had to literally pull it apart and ice fell from it. My shoelaces were frozen, ice was all over my socks and into my shoes, hence the reason I couldn't feel my feet or hands by the end.
I was able to keep my pump warm and working during the race by using a tool called the FlipBelt and placing my pump against my skin under my long underwear*.
Just in case I was unsuccessful in keeping my pump safe and warm, I was able to procure a "loaner" pump from Medtronic and had written down all of my settings, just in case. Good thing was, I never had to use it!!
My BG at the beginning of the race was around 80 mg/dL so I ate a few candies I had, ensuring that my sugars wouldn't drop too low during the race. I didn't want to risk having to bring my pump out into the open weather to turn off the alarms and potentially have it freeze. I finished the race with my BG around 150 mg/dL.
February 9, 2020 – Perth – Marathon #3
It was a long flight from South Africa to Perth. Time for some recovery sleep and rest. Meals were basically the same on
both legs of this flight; pasta, salad and dessert.
We landed and there were several people who greeted us with signs as we had three Aussie runners.
We started the race at 11:30 p.m. and were told it was windy. It was a good quiet run. The wind cooled us as we ran. My last two laps were strong and I finished in 4:59:46.
It was warmer in Perth and I tend to make sure I keep my pump AWAY from my skin, when it's warm. As I mentioned earlier, I use the FlipBelt and most times, I wear it on the outside of my clothes, and it sits around the top of my hips.  My BG at the start of the race was
around 120 mg/dL and I finished the race with my BG around 85 mg/dL. While I usually like to have my blood sugars a little higher before a marathon race, the way these marathons are organized allows me to have something nearby to help me keep my glucose levels stable.
We finished with the volunteers cooking sausages, eggs, bacon, toast, fruit, fruit juices, milk, yogurt, water, muffins, etc. Amazing!! But before I could eat, I wanted to take a quick shower as we didn't have many opportunities to do this.
Before we boarded the plane, we grabbed some french fries, from the airport. We all needed the extra salt in our diet!
February 10, 2020 – Dubai – Marathon #4
Approximately 30 minutes after takeoff they fed us. I chose the chicken parmesan. It had one carrot, 2 thin pieces of asparagus, 2 huge slabs of breaded chicken on top of thick noodles. It was cold but I ate a portion of the chicken and some noodles and the asparagus. My sugars dropped again probably because I took too much insulin thinking I'd like and eat the noodles, but they were cold. I ate some shortbread cookies to bring it back up.
I was already dressed for Dubai since I put these clothes on after the shower in Perth. I was  wearing the Medtronic jacket and jogging pants over my running clothes.
We ran this marathon at night, starting at 11:44 p.m., and it was warm and a bit muggy. It looked like it had recently rained so the
path we were running on was a tad slippery. The path was soft and cushiony and I thought it felt good on the knees and feet, however the faster runners felt it was harder on the legs. I was able to complete the race in 4:36:35.
My BG at the start of the race was high, and I believe I over corrected when my sugars had dropped earlier. I started the race with my BG around 350 mg/dL** and ended the race around 90 mg/dL.
When we got to the airport, we were all starving as there was no food after the race. I went to McDonald's and got some food. We were headed to Madrid next. Rumor was that we would be running Madrid 13 hours after finishing Dubai.
February 11, 2020 – Madrid – Marathon #5
We were way behind schedule, hence the reason we had to run 2 marathons (Dubai and Madrid) within 24 hours. We had approximately 40 hours to run two more marathons and fly to Miami, FL.
I loved running Madrid. Knowing we were going to run the Circuito del Jarama Formula One track again this year was the highlight of the trip. We had to run 11 laps to make up the 26.2 miles, which was awesome. The pit road was where we kept our water, food and anything we might want or need after the race. The weather was perfect for me as I prefer
colder and wetter weather. The terrain with the views and hills was also something I prefer. The combination of this with running on a Formula One track made this one of my favorite races in the World Marathon Challenge.
We began the race at 7:08 p.m. and my BG was around 200 mg/dL and I finished with it around 80 mg/dL. I finished this race in 4:12:30. My fastest race yet!
February 12, 2020 – Fortaleza, Brazil – Marathon #6
We started the race at 9:15 a.m. around the hottest time of the day in the summer. It was easily high 80s and the humidity had to be around 100%. The doctor kept telling us to drink and take salt tablets.
There were two areas on the course where they handed out wet sponges with ice! There were 3 water stops including our tent that housed our personal water/food/gels. It was seriously hot and brutal.
Since it was so hot and humid, everything swelled on people (hands, feet, ankles etc.) and so many runners had issues getting through the race. This race was tough
and I found myself drinking more of my water bottle than I usually did. I normally take an ounce or two every couple of miles. Even with that, my BG at the start of the race was around 120 mg/dL and at the end it was around 100 mg/dL. I finished this race in 5:19:29.
February 13, 2020 – Miami, Florida – Marathon #7
We landed in Miami!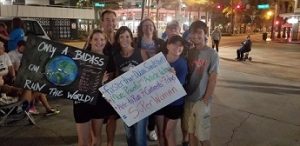 We got off the bus to a lot of people cheering for us — family and friends!
We needed to start the race quickly as we all had to finish by 12:12 p.m. to make the 7 marathons in 168 hours. The gun went off and we started the race at 5:18 a.m.
We had 5 loops on the course. Around a bend I heard, "go Linda! Nice way to represent the pump," and I looked back to
see Matt, the Medtronic District Manager for Florida. I stopped and said, "let's see what this pump says my sensor glucose is" – it read 84 mg/dL!
I finished the race in 4:50:19. It was so much fun! After the race, I took pictures with 5 local Medtronic representatives of which two had the same MiniMed 670G system. It was great support from Medtronic and from my family and friends! I had just run two marathons within about 14 hours!!
I didn't have any issues with my blood sugars over those last few days. I felt I had gotten better at guessing what the carbohydrates were on some of the different foods that we were being served. I started this race with my BG at 130 mg/dL and ended it with it around 95 mg/dL.
My family and I decided to grab something to eat at the hotel. I soon realized that I needed to take a nap. I was really tired. I laid down and slept until about 6:00 p.m. I took a shower and found a great place to grab a juicy hamburger.
Belly full, heart full, time for bed….again!
Summary:
Another fantastic race with competitive, awesome, supportive, funny and an emotional group of runners! This race couldn't have happened without the support of Medtronic, the staff and the technology! It was a great opportunity to meet the Medtronic leadership and support teams, and spend some time with the local Miami Medtronic team. I am living proof that having T1D does not limit you. You can reach your dreams! I am living more and worrying less.
For those who love statistics, here are a few:
11 flights, including 4 fuel stops
69:25 hours in flight time
29,368.72 flight miles
I ran 183.4 miles within the 168-hour time limit
Completed 7 marathons in 35:59:28 (45:58 faster than 2019)
Average marathon time was 5:08:28 (6:36 faster than 2019)
2nd fastest American woman
I finished 5th of 10 Women to complete all 7 marathons
3rd woman to complete the WMC twice
I am the only female T1D to complete the WMC not once but twice
Second woman to finish the WMC in back to back years
The 2nd woman of 7 to complete both the World Marathon Challenge and the World Marathon Majors
Once again………ZERO blisters!
Upon completion of the 2020 World Marathon Challenge, only 49 women have successfully completed this race
As will often happen, local newspapers hear about what all of these athletes have done and will do a news story. Below are links to the articles that were written by our local newspaper:
First Pilot article from Jan 27, 2020
https://www.thepilot.com/news/seven-days-seven-marathons-pinehurst-woman-ready-for-global-challenge/article_9f5f5b22-4133-11ea-a642-e37eba53c03b.html
Second Pilot article from February 28, 2020
https://www.thepilot.com/news/seven-marathons-round-the-world-pinehurst-runner-embraces-challenge/article_848ea3fe-5a6d-11ea-9b5a-3f9ff8f9d185.html
For more information about me and my journey, please follow me on :
Instagram: lcarrier4486
Twitter: @LCarrier
Facebook: Linda Orton Carrier
Blog: lindasrunningadventures
Would I do this again……YES, PLEASE!
*MiniMed™ pumps are designed to withstand temperatures between 41-104°. Insulin can freeze near 32°. If you are outside in cold weather, wear your pump close to your body and cover it with warm clothing.
**If blood glucose is higher than 250 mg/dL, check for ketones.
The testimonial above relates an account of an individual's experience with a Medtronic device. The account is genuine, typical and documented. However, this individual's experience does not provide any indication, guide, warranty or guarantee as to the response or experience other people may have using the device. The experience other individuals have with the device could be different. Experiences can and do vary. Please talk to your doctor about your condition and the risks and benefits of Medtronic devices.
Important Safety Information
MINIMED™ 670G SYSTEM
The Medtronic MiniMed™ 670G system is intended for continuous delivery of basal insulin (at user selectable rates) and administration of insulin boluses (in user selectable amounts) for the management of type 1 diabetes mellitus in persons, seven years of age and older, requiring insulin as well as for the continuous monitoring and trending of glucose levels in the fluid under the skin. The MiniMed™ 670G system includes SmartGuard™ technology, which can be programmed to automatically adjust delivery of basal insulin based on Continuous Glucose Monitor sensor glucose values and can suspend delivery of insulin when the sensor glucose value falls below or is predicted to fall below predefined threshold values. The system requires a prescription. The Guardian™ Sensor (3) glucose values are not intended to be used directly for making therapy adjustments, but rather to provide an indication of when a fingerstick may be required. A confirmatory finger stick test via the CONTOUR®NEXT LINK 2.4 blood glucose meter is required prior to making adjustments to diabetes therapy. All therapy adjustments should be based on measurements obtained using the CONTOUR®NEXT LINK 2.4 blood glucose meter and not on values provided by the Guardian™ Sensor (3). Always check the pump display to ensure the glucose result shown agrees with the glucose results shown on the CONTOUR®NEXT LINK 2.4 blood glucose meter. Do not calibrate your CGM device or calculate a bolus using a blood glucose meter result taken from an Alternative Site (palm) or from a control solution test. It is not recommended to calibrate your CGM device when sensor or blood glucose values are changing rapidly, e.g., following a meal or physical exercise. If a control solution test is out of range, please note that the result may be transmitted to your pump when in the "Always" send mode.
Pump therapy is not recommended for people whose vision or hearing does not allow recognition of pump signals and alarms. Pump therapy is not recommended for people who are unwilling or unable to maintain contact with their healthcare professional. The safety of the MiniMed™ 670G system has not been studied in pregnant women. For complete details of the system, including product and important safety information such as indications, contraindications, warnings and precautions associated with system and its components, please consult http://www.medtronicdiabetes.com/important-safety-information#minimed-670g and the appropriate user guide at http://www.medtronicdiabetes.com/download-library
Tags:
670G
,
diabetes
,
MiniMed 670G system
,
type 1 diabetes
,
WMC
,
World Marathon Challenge