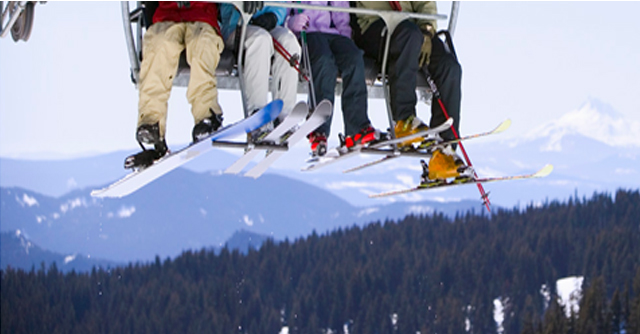 Today, meet Michael Findling. He's one of those guys who keeps the Medtronic marketing department fun. He's also a 7-year pumper and a lifelong outdoor sports guy. Let's hear his take on taking on the slopes of Southern California with his insulin pump.
Winter is finally in full force. The holiday food fest and mandatory five-pound weight gain from cookies have insulated this frame to bear the frigid temperatures of the Southern California mountains. Winter has always been one of my favorite seasons. I grew up in Michigan for the first 24 years of my life. A large chunk of that time was spent in thick jackets, knit hats, and gloves. Being the sports nut that I am as well as a type 1 diabetic for thirteen years and pumper for the last seven, I've learned how to make the most out of my time in the crystallized ice water.
Skiing is one of my favorite winter sports, and it certainly brings its own challenges with diabetes control. What are some of the challenges you ask? Great question. The main concern with skiing for me is…. how hard am I really skiing? I'm not Johnny Mosley by any stretch, but sometimes I like to think that I am. Some mountain runs will be tougher, some chairlift rides and lines will be longer, and sometimes extra hot chocolate is needed to get the circulation back in your toes. So, how do you deal with this type of day? Hard hill, bunny hill, energy exerted versus what I ate? Well, fortunately I have pump that to help out with that. My issue with multiple daily injections was always taking a shot at the right time. Do I really want to remove myself from what I'm doing to give the injection? Can I put it off a little bit? Did I already give myself a shot and don't remember? Now in the winter, the X-factor is, do I want to remove my 18 layers of clothing to give myself a shot to then, put it all back on? Insert scene from the movie "A Christmas Story" where Ralphie's brother is going to school yelling, "I can't put my arms down!" The answer a lot of times was, "no."
My insulin on board with injections kept my blood sugar low quite a bit with skiing and with several other sports as well. The pump has allowed for a lot more freedom in how I attack each day. Let me explain. I'm the type of person who tries to keep up with the latest research in health. For a while now, my daily diet includes 5-7 smaller meals a day every 2 to 3 hours. Doing so helps me to not only keep the nutrients I need going into my body, but it also breaks up my bolus insulin schedule so I'm not putting so much in at a time. This helps because I never feel like I'm chasing my BG with food, and I can adjust my delivery rates pretty easily. For instance, if I'm heading out on the mountain right after breakfast, I'll normally decrease my bolus for breakfast by about 1/4 to 1/3. If it's later in the morning, I just won't bolus for the snack I would be eating anyways. The varying delivery schedule of the pump mimics the varying schedule of my life.
One thing I won't get away from is checking my blood sugar levels. We can all have the most advanced insulin regimens on the planet, but it doesn't mean anything if we don't know where those BGs are at. We can't make the adjustments unless we know. I tend to check my BG every 2 to 3 hours. Sometimes more. A simple step that takes 5 seconds but gives me the piece of mind to continue on with my day.
My trips on the slopes are never the same, and I am not a planner. But I do make sure I have something that will bring my BG up when I'm out there: glucose tabs (my favorite), Gatorade goo packs (small, thin, easy to go anywhere), and/or slower releasing nutritional bars, like a Cliff Bar or a Think Thin Bar. The slower release keeps me steady for longer periods of time without that spike in my BG levels. Muito Bom!
The cold weather has never affected my pump either. At first, I wondered if it would be ok in the -2 degree thrashings we can get, but I overcame that concern very quickly. I just keep that sucker attached to my long johns right next to my body. My body heat keeps it warm and my clothing layers keep it covered. No worries! The pump is also pretty durable, and I know first-hand after some pretty gnarly tumbles I've taken. The pump has allowed for me to live the active life that I want to live. With a little advanced planning, there's nothing that can stop me from my next conquest: Heli-skiing.
IMPORTANT SAFETY INFORMATION
– Medtronic Diabetes insulin infusion pumps, continuous glucose monitoring systems and associated components are limited to sale by or on the order of a physician and should only be used under the direction of a healthcare professional familiar with the risks associated with the use of these systems.
– Successful operation of the insulin infusion pumps and/or continuous glucose monitoring systems requires adequate vision and hearing to recognize alerts and alarms.
Medtronic Diabetes Insulin Infusion Pumps
– Insulin pump therapy is not recommended for individuals who are unable or unwilling to perform a minimum of four blood glucose tests per day.
– Insulin pumps use rapid-acting insulin. If your insulin delivery is interrupted for any reason, you must be prepared to replace the missed insulin immediately.
Medtronic Diabetes Continuous Glucose Monitoring (CGM) Systems
– The information provided by CGM systems is intended to supplement, not replace, blood glucose information obtained using a home glucose meter. A confirmatory fingerstick is required prior to treatment.
– Insertion of a glucose sensor may cause bleeding or irritation at the insertion site. Consult a physician immediately if you experience significant pain or if you suspect that the site is infected.
Please visit www.medtronicdiabetes.com/about/safety.html for complete safety information.
———————————————————————————————————————————
Tags:
cold weather
,
diabetes care
,
exercise
,
insulin pump
,
skiing
,
sports