Taking on the New York City Marathon with T1D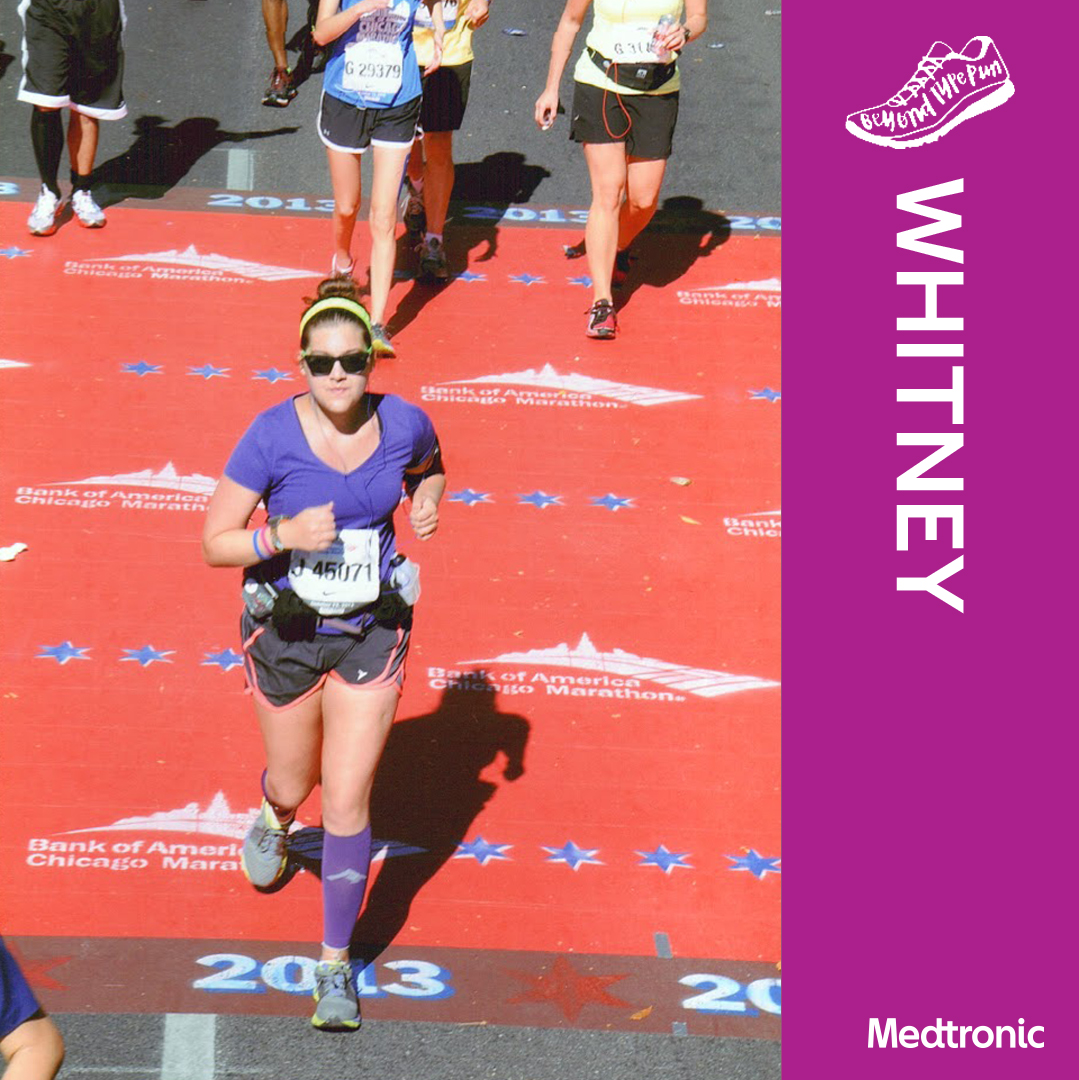 Meet Whitney, one of the runners who will be on the Beyond Type Run marathon team at the New York City marathon this Sunday, November 5. Whitney and team, we are so inspired by you and will be cheering for you every step of the way!
As I prepare for the NYC Marathon this Sunday, a second attempt, I can't help but reflect on the comparison between this training coming to an end and my very first marathon training for NYC back in 2012. Then, a resident of NYC, like many, I was overcome by the inspiration of over 40,000 runners running past my block, the well known 16 mile stretch. I was starting to expand my boundaries of running, mostly fueled by the healthy living blog boom of 2010, where many of these bloggers were training for their first marathon. Me too! I wanted in on this experience! But two thoughts lingered in my mind: 1) a marathon?! I'm a casual 3-5 miles kind of girl, I'm not competitive and 2) how in the world would I manage this with diabetes?? And how would I manage the diabetes with this??
Getting to the Starting Line
I found my running community through various formats quickly and learned timeless information and tips from all levels. However, I struggled to find the right resources as a diabetic runner. What do you do post-long run when you're supposed to refuel but your blood sugars are too high to eat anything? How does this whole carb loading thing work if you're on a carb counting regime? Why are there not enough pop tarts in the world to get my blood sugars back to safety after my double digit run many hours earlier? (I think the final count was 6, no I have not had pop tarts since.) Why don't glucose tablets taste as good as the pink lemonade Honey Stingers? My Endo at the time thought I was crazy for wanting to run a marathon…and that had nothing to do with the diabetes. So while I got the clearance, I was on my own for figuring out how this would go down as I struggled to find an active diabetic community…. especially a relatable one.
Becoming a Marathoner
Ultimately, it was not NYC that was my first marathon but Chicago in 2013. This time I was solo in my training and still searching for the right resources and community to improve as a diabetic runner. I woke up race day in the 300s having under calculated the sweet potato fries from the restaurant the night before. This was not the plan! My meter's battery died while I was waiting for the start. Also, not part of the plan! Driven by determination and guided by trust in my training and my body, I somehow made it to mile 12 before grabbing my back up meter and extra fuel from my dad. I would go on to have perfect blood sugars along the rest of the course. Steady and in target in a way that I dream about on any given day.
Turning to Tech
After a long resistance to an insulin pump (and/or a CGM) and just shy of 26 years with Type 1, it was my active lifestyle that finally led me to give it a go in November 2015, just days after completing a half marathon in San Diego. While the plan was already in place, the fact that during the Celebration half marathon, I was consuming fuel faster than my running pace and found myself in a stretch of fields and highways and little else around, I knew that this switch would only positively impact my fitness performance.
The pump would come to my aid not just in running but in all areas of activity. Whether it was running around the city doing errands or it was pushing myself in spin classes or partaking in social fitness events and block workouts. A large part of who I am is based on my passion for fitness.
Marine Corps Marathon last October was the first marathon / race I completed with an insulin pump and it was a defining moment – reinforcing the positive in the switch. I struggled to take down fuel along the course and while my blood sugar levels were perfect on paper, they weren't so marathon friendly. Being able to suspend delivery along the course made the pump a crucial ally.
Finding My Community
It was during this third training that I finally found the perfect fit in an active diabetic community. A tribe of all levels and interests. Beyond Type 1 was the group I had be searching/waiting for. When the opportunity came to join and represent them as part of Beyond Type Run, finally all universes collided for a pretty powerful experience.
NYC Take Two
Training this season has been vastly different, not only from my first time training for NYC but in comparison to all my other halves and full marathons. I entered it with a fractured ankle and was granted medical clearance just in time to make a minimum training schedule. This time my diabetes wouldn't be the star of my training, keeping my ankle bone intact would be. I already knew I had the mental endurance part covered, in part, type 1 diabetes prepared me for marathon training from the start, as a disease focused on self management.
With a shortened schedule, I had less patience to sacrifice a run to uncooperative blood sugars. While the lessons in diabetes management might not have been as significant this go around, the experiences of becoming a part of a diabetic community have been huge. While the 2017 NYC Marathon will be a big marker for me, it's just one chapter of my fitness story. Post-race I look forward to exercising my motto of always training through various fitness activities with a new advantage of exploring all the benefits of the MiniMed 670G system with SmartGuard technology and to see how it supports me in living beyond type 1 diabetes.
*Whitney was provided product in exchange for her own thoughts and opinions. Individual results may vary.
*The patient testimonial above relates an account of an individual's response to treatment. The account is genuine, typical and documented. However, this patient's response does not provide any indication, guide, warranty or guarantee as to the response other people may have to the treatment. The response other individuals have to the treatment could be different. Responses to the treatment can and do vary. Not every response is the same. Please talk to your doctor about your condition and the risks and benefits of these technologies.
IMPORTANT SAFETY INFORMATION
The Medtronic MiniMed 670G system requires a prescription and is intended for continuous delivery of basal insulin (at user selectable rates) and administration of insulin boluses (in user selectable amounts) for the management of Type 1 diabetes mellitus in persons, fourteen years of age and older, requiring insulin as well as for the continuous monitoring and trending of glucose levels in the fluid under the skin. The MiniMed 670G System includes SmartGuard technology, which can be programmed to automatically adjust delivery of basal insulin based on Continuous Glucose Monitor sensor glucose values, and can suspend delivery of insulin when the sensor glucose value falls below or is predicted to fall below predefined threshold values.

WARNING: Do not use Auto Mode for a period of time after giving a manual injection of insulin by syringe or pen. Manual injections are not accounted for in Auto Mode. Therefore, Auto Mode could deliver too much insulin. Too much insulin may cause hypoglycemia. Consult with your healthcare professional for how long you need to wait after a manual injection of insulin before you resume Auto Mode.
The Guardian Sensor (3) is not intended to be used directly for making therapy adjustments, but rather to provide an indication of when a finger stick may be required. All therapy adjustments should be based on measurements obtained using a home glucose monitor and not on values provided by the Guardian Sensor (3).
Pump therapy is not recommended for people whose vision or hearing does not allow recognition of pump signals and alarms. Do not use the serter on products other than the Enlite sensor or Guardian Sensor (3). Medtronic cannot guarantee the safety or efficacy of this product if used with other products. The reservoir is contraindicated for the infusion of blood or blood products. Infusion sets are indicated for subcutaneous use only and not for intravenous (IV) infusion or the infusion of blood or blood products. Insulin pump therapy is not recommended for those who are unwilling to perform at least four blood glucose tests per day. As insulin pumps use rapid acting insulin only, BG testing is required to help identify rapid glycemic deterioration due to insulin infusion occlusion, infusion site problems, insulin stability issues, user error, or a combination of these. Pump therapy is not recommended for people who are unwilling or unable to maintain contact with their healthcare professional.
The safety of the 670G system has not been studied in people with impaired kidney function. Please let your healthcare professional know if you have kidney disease so you and your healthcare professional can determine if the potential benefits of using the system outweigh the risks. The safety of the 670G system has not been studied in pregnant women, people with type 2 diabetes, or in people using other anti-hyperglycemic therapies apart from insulin. Please let your healthcare professional know if any of these conditions apply to you so you and your healthcare professional can determine if the potential benefits of using the system outweigh the risks.
For complete safety information, please consult the appropriate User Guide.
Tags:
beyond type 1
,
beyond type run
,
exercise
,
new york city marathon
,
type 1 diabetes