Mandy Shares How Her Insulin Pump Supports Her Active Lifestyle — As a Flight Attendant, And This Summer, A Bride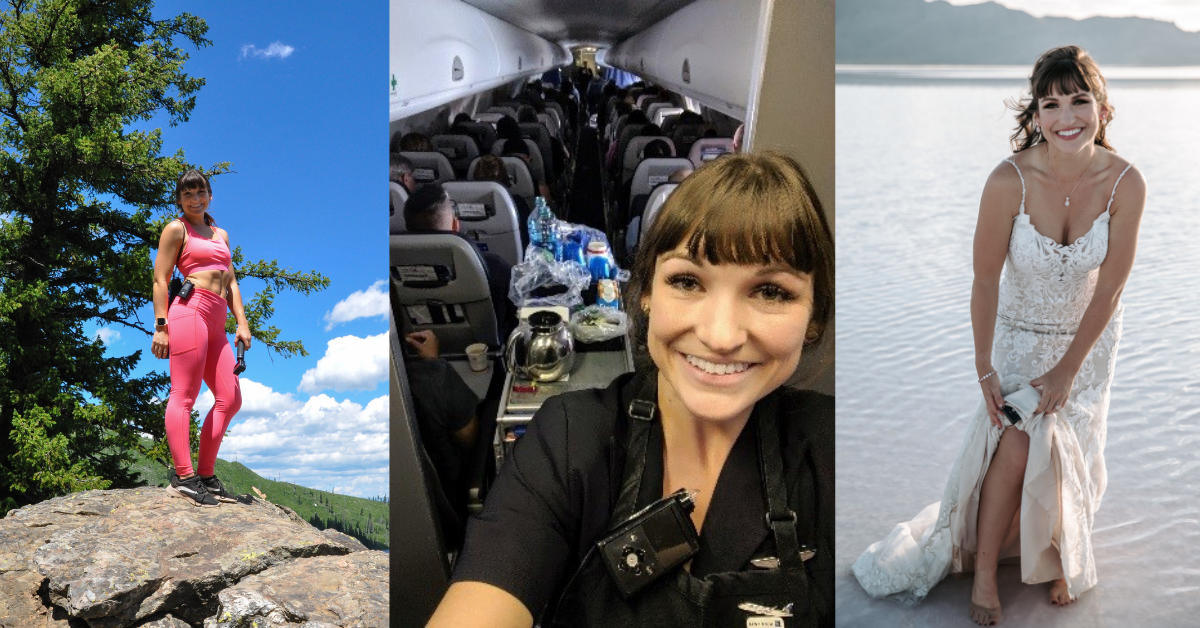 Summer is here – and for many of us that means traveling, vacations and maybe even going to a wedding. Mandy, did all that this summer, and more. Mandy works as a flight attendant and travels all the time as part of her job. On top of that, she also got married earlier this summer and went on a honeymoon to Mexico with her new husband.
We caught up with Mandy to see how the big day went and learn more about what it is like to work as a flight attendant while managing her type 1 diabetes.
Q: You were diagnosed with type 1 diabetes at just 6 years old. How did you manage your diabetes then?
Mandy: I was on injections for 20 years until I recently started using the MiniMed 670G system. Luckily, I had a really great mom who took care of most of it in the early years. Over time she taught me to do it on my own. I learned to poke my finger 5 times a day. I learned proper nutrition and the importance of being physically active. Since I was a child, I have always been a very active person — including a competitive gymnast and cheerleader — but my doctor never really pressed me to look into a pump. I always felt I was doing well enough at managing my diabetes, so I never asked about it. I also worried about what having a pump would mean for my active lifestyle.
Q: What made you start considering insulin pump therapy?
Mandy: When I started working as a flight attendant, many things changed. I no longer had a set schedule which meant I was often eating at odd hours. I tended to snack on the available airplane food rather than eating complete meals due to my busy schedule and long hours. Many times I felt rushed and didn't give myself shots until later. This led to higher blood sugars. Another worry I had was that I would often have to sleep in a hotel room alone and far from home. I would eat snacks before bed to avoid having lows which would sometimes lead to higher morning BGs. My doctor suggested that I try a pump. She told me about a new pump with an Auto Mode feature by Medtronic. She felt that this pump would address many of the issues I was having.
Q: How has the MiniMed 670G system made a difference?
For me, the MiniMed 670G system has helped me live my life as I want to – and in a way that fits with my busy schedule. I now have more control of blood sugars and when I have to work 12 hours straight, I have fewer highs and lows.* I am also more able to catch lows before they happen, which makes them much less terrifying.* I no longer need as many snacks before bedtime. In the morning it is so great to look at my levels during the night and see what they're doing. It provides peace of mind for my husband, mom, and family.
Q: Congratulations on being a newlywed! How did you plan for your day – keeping in mind that you would want to make sure you had time to eat, and a place to put your insulin pump?
Mandy: Thank you – the day could not have gone better (except that it flew by so quickly). At first I thought that maybe I would take a mini pump-vacation during the wedding day, but my mom rightly set me straight. She said "No way! We don't need to be worrying about that on the wedding day of all days." She was so right! I was able to have a seamstress sew a pocket into my dress to hold my insulin pump so I could focus on having fun with my husband and all of our friends and family. The pump and the Auto Mode feature were so wonderful that I worried less about my diabetes.
Q: And how was the honeymoon? Where did you go?
Mandy: We spent our honeymoon in Cozumel, Mexico and had an amazing time. We stayed at an all-inclusive resort which means mountains of food and oceans of alcohol (within reason of course). I had no issues with my BGs. Thank you, Henry (my pump's name)!
Q: What else would you like to share?
Mandy: Having important relationships in my life helps remind me that it is not just me that is affected by my diabetes. I now have a husband, and we want to have kids in the future. I want to be sure that I am healthy and ready for the plans we have made together. This system helps give me confidence in that. I also have more confidence with exercise. We both love to exercise and I like that the pump has features such as setting a temp BG target so I can hit the gym without worrying as much about lows.* Looking back, I just wish this pump had been around my whole life.
*Refers to Auto Mode. Some user interaction required.
*The testimonial above relates an account of an individual's experience using a Medtronic device. The account is genuine, typical and documented. However, this individual's experience does not provide any indication, guide, warranty or guarantee as to the response or experience other people may have using the device. The experience other individuals have with the device could be different. Experiences can and do vary. Please talk to your doctor about your condition and the risks and benefits of Medtronic devices.
Medtronic Diabetes pumps work at altitudes below 10,000 feet above sea level. Confirm your device's altitude range before engaging in sporting activities.
Important Safety Information
MINIMED 670G SYSTEM
The Medtronic MiniMed™ 670G system is intended for continuous delivery of basal insulin (at user selectable rates) and administration of insulin boluses (in user selectable amounts) for the management of type 1 diabetes mellitus in persons, seven years of age and older, requiring insulin as well as for the continuous monitoring and trending of glucose levels in the fluid under the skin. The MiniMed™ 670G system includes SmartGuard™ technology, which can be programmed to automatically adjust delivery of basal insulin based on Continuous Glucose Monitor sensor glucose values and can suspend delivery of insulin when the sensor glucose value falls below or is predicted to fall below predefined threshold values. The system requires a prescription. The Guardian™ Sensor (3) glucose values are not intended to be used directly for making therapy adjustments, but rather to provide an indication of when a fingerstick may be required. A confirmatory finger stick test via the CONTOUR®NEXT LINK 2.4 blood glucose meter is required prior to making adjustments to diabetes therapy. All therapy adjustments should be based on measurements obtained using the CONTOUR®NEXT LINK 2.4 blood glucose meter and not on values provided by the Guardian™ Sensor (3). Always check the pump display to ensure the glucose result shown agrees with the glucose results shown on the CONTOUR®NEXT LINK 2.4 blood glucose meter. Do not calibrate your CGM device or calculate a bolus using a blood glucose meter result taken from an Alternative Site (palm) or from a control solution test. It is not recommended to calibrate your CGM device when sensor or blood glucose values are changing rapidly, e.g., following a meal or physical exercise. If a control solution test is out of range, please note that the result may be transmitted to your pump when in the "Always" send mode.
Pump therapy is not recommended for people whose vision or hearing does not allow recognition of pump signals and alarms. Pump therapy is not recommended for people who are unwilling or unable to maintain contact with their healthcare professional. The safety of the MiniMed™ 670G system has not been studied in pregnant women. For complete details of the system, including product and important safety information such as indications, contraindications, warnings and precautions associated with system and its components, please consult http://www.medtronicdiabetes.com/important-safety-information#minimed-670g and the appropriate user guide at http://www.medtronicdiabetes.com/download-library
Wedding photography provided by Breanna White
Tags:
670G
,
blood sugar
,
diabetes
,
minimed
,
minimed 670g
,
type 1 diabetes