Living with Type 1 Diabetes: A Veteran's Story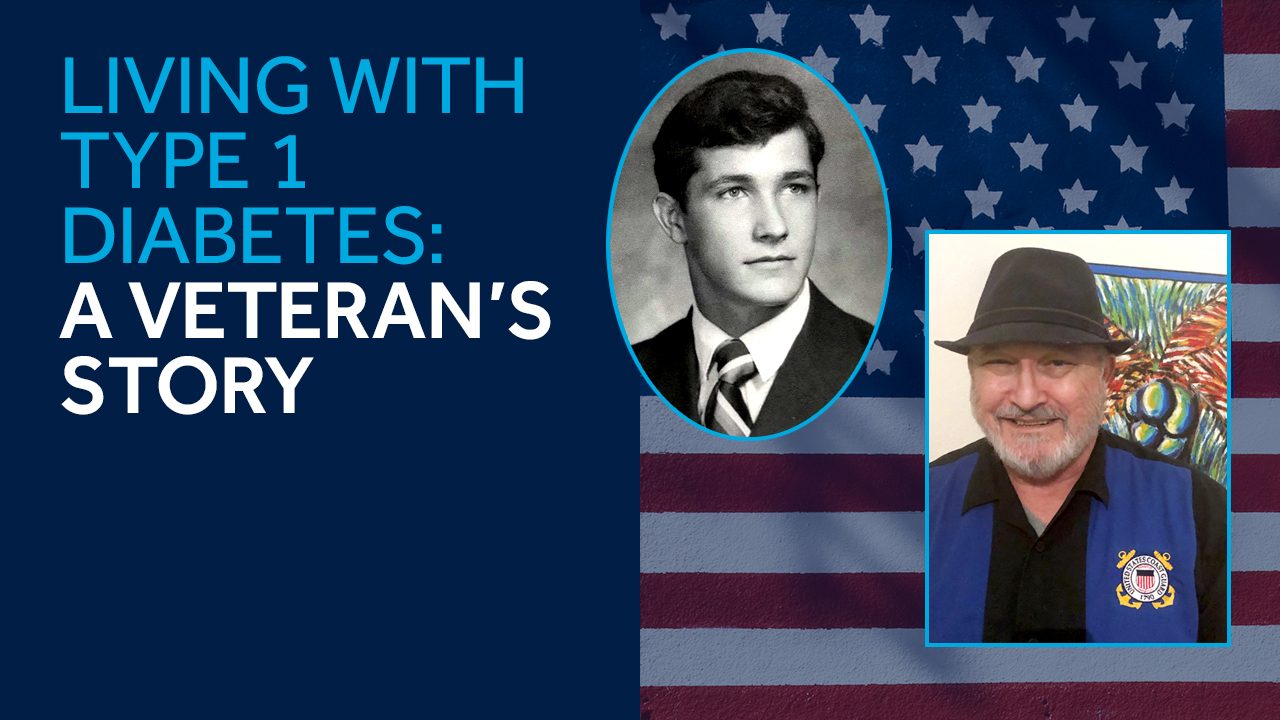 In the spirit of showing gratitude for all those who have served in the military on this Veteran's Day, we asked Medtronic Ambassador Spencer to share his story about living with type 1 diabetes as a veteran.
Q. Could you please tell us a little bit about yourself?
My name is Spencer, and I'm a 66-year-old U.S. Coast Guard Veteran. I live in Clearwater, Florida with my wife, Melinda. I've been living with type 1 diabetes (T1D) since 1973, and using insulin pump therapy since 1983.
Q. How were you diagnosed with diabetes? Can you share with us what your first experiences were like?
When I joined the Coast Guard right out of high school, I weighed 130 pounds at 5' 11. I was a skinny Minnie, that is for sure. I was healthy. No issues. Then, I noticed I was getting up frequently at night to urinate and drinking as much liquid as I could. I was stationed in New York City, so I took the subway a lot. I would fall asleep on the subway because I never really got a good night's sleep after being up all night using the restroom. I was eating ferociously and drinking huge amounts of liquids during meals.
Finally, I went to the infirmary on Governors' Island, and they did blood work. I was called back to the infirmary the next day and was told I needed to take a glucose tolerance test. This was horrible. I had to drink an unpleasant liquid. I never wanted to do that again. The next day, the doctor told me I had diabetes. But because of my age, they assumed I had adult onset diabetes (the former term for what is now type 2 diabetes). In 1973, it was unusual for someone into adulthood to be diagnosed with what was known as juvenile diabetes (the former term for type 1 diabetes).
The oral medications that were prescribed did not work. The doctors finally decided to try insulin. It worked. My blood glucose levels started leveling off in the right range. Before treatment, I had dropped down to 105 pounds, despite the amount I was eating. Soon, my weight went up to 160 pounds, the most I had ever weighed. I felt better, and I was sleeping through the night. I didn't care for the shots, but I was okay with it because I was doing better. My doctor told me, however, that because of what they knew about diabetes at the time, and my age (19), that I would be lucky to see 50 years old. So far, 66 looks really good, and more to come!
Q. Tell us a little bit about what it was like to have diabetes while serving in the military.
Back in 1973, if you were diagnosed with diabetes, you were discharged from service. I stayed under the Coast Guard doctor's care for 6-8 months, while they got my health under control. But back then there wasn't an endocrinologist to help regulate diabetes, so the treatment and technology were much less advanced and after I was under control I was discharged.
Q. How did your experience living with type 1 diabetes change once you began insulin pump therapy?
When I started wearing the insulin pump, I took on the mentality of 'just do it,' and I stayed very active. I played sports in Alaska, Texas and Florida while on the pump. I worked hard and  was a single parent to a very active girl.
For the first 15 years of wearing an insulin pump, I was one of very few veterans in the VA system with a pump. Each time I went to a new VA facility, there was a bevy of "wow, what is that?" statements all around me. It took me that long to finally encourage the VA to get more veterans on insulin pump therapy. Now, it is much more common.
Q. How are you managing your diabetes and health now that you're retired?
Diligently. I have always paid attention to doing the right things regarding my diabetes. When I was diagnosed in 1973, I was determined to manage it the best way I could, physically and mentally. I stopped eating poorly. I ate sugar only to bring up a severely low blood glucose. Back then, there were very few sugar-free products on the shelf, so I had to learn to eat without sugar. As more of them became available, I learned through the years how to incorporate sugar-free products in my diet.
Q. How has being on the MiniMed 670G system been for you?
There are pros and cons. I like how it gives me the ability to have great numbers, which, ultimately, is the goal. The bad is the alarms. The alarms have actually helped bring my numbers (and they were great before) into even better control, though. I have always been aware of my diabetes. I think that is part of why I am doing so well. But, the alarms will really force you to focus even more on your diabetes. Why? Because you want to do everything in your power to NOT have the alarms. So, they are good, and bad. Mostly good.
Q. Tell us about your experience with the Veterans Affairs while living with diabetes.
After I was diagnosed in the Coast Guard in 1973, the military transferred my care to the VA as soon as I was discharged. My first time in a VA facility was in May 1974, in Tampa. First, let me just say, the adjudication side of the VA is the worst part to deal with. I have said it many times, because it is true. But, I have also said right from the very first day, the best medical care I could have ever gotten in my entire life was through the VA. I could never have gotten this quality of medical care in the civilian population. Even when I was the only veteran on an insulin pump, they provided strong support, even though they didn't know much about the technology.
Overall, my experience with medical care from the VA has been top notch.
Q. What experience did you have trying to get the MiniMed 670G system through the Veterans Affairs?
Getting on the MiniMed 670G system was a similar experience to my initial attempt to get on insulin pump therapy for the first time in 1983. It took a lot of talking and persistence. But the best thing I could do to prove the value of the pump was to demonstrate how it helps to give me greater control and positive outcomes. I showed them that throughout my entire life with type 1 diabetes (still true to this day), I have been admitted into the VA hospital only one time due to diabetes. I proved to them that the positive outcomes of insulin pump therapy would be both beneficial for veterans and cost-effective for the VA in the long run.
The testimonial above relates an account of an individual's experience with a Medtronic device. The account is genuine, typical and documented. However, this individual's experience does not provide any indication, guide, warranty or guarantee as to the response or experience other people may have using the device. The experience other individuals have with the device could be different. Experiences can and do vary. Please talk to your doctor about your condition and the risks and benefits of Medtronic devices.
Important Safety Information
MINIMED™ 670G SYSTEM
The Medtronic MiniMed™ 670G system is intended for continuous delivery of basal insulin (at user selectable rates) and administration of insulin boluses (in user selectable amounts) for the management of type 1 diabetes mellitus in persons, seven years of age and older, requiring insulin as well as for the continuous monitoring and trending of glucose levels in the fluid under the skin. The MiniMed™ 670G system includes SmartGuard™ technology, which can be programmed to automatically adjust delivery of basal insulin based on Continuous Glucose Monitor sensor glucose values and can suspend delivery of insulin when the sensor glucose value falls below or is predicted to fall below predefined threshold values. The system requires a prescription. The Guardian™ Sensor (3) glucose values are not intended to be used directly for making therapy adjustments, but rather to provide an indication of when a fingerstick may be required. A confirmatory finger stick test via the CONTOUR®NEXT LINK 2.4 blood glucose meter is required prior to making adjustments to diabetes therapy. All therapy adjustments should be based on measurements obtained using the CONTOUR®NEXT LINK 2.4 blood glucose meter and not on values provided by the Guardian™ Sensor (3). Always check the pump display to ensure the glucose result shown agrees with the glucose results shown on the CONTOUR®NEXT LINK 2.4 blood glucose meter. Do not calibrate your CGM device or calculate a bolus using a blood glucose meter result taken from an Alternative Site (palm) or from a control solution test. It is not recommended to calibrate your CGM device when sensor or blood glucose values are changing rapidly, e.g., following a meal or physical exercise. If a control solution test is out of range, please note that the result may be transmitted to your pump when in the "Always" send mode.
Pump therapy is not recommended for people whose vision or hearing does not allow recognition of pump signals and alarms. Pump therapy is not recommended for people who are unwilling or unable to maintain contact with their healthcare professional. The safety of the MiniMed™ 670G system has not been studied in pregnant women. For complete details of the system, including product and important safety information such as indications, contraindications, warnings and precautions associated with system and its components, please consult http://www.medtronicdiabetes.com/important-safety-information#minimed-670g and the appropriate user guide at http://www.medtronicdiabetes.com/download-library
Tags:
670G
,
living with diabetes
,
MiniMed 670G system
,
Type 1
,
type 1 diabetes