How Riding in the Ride to Cure Impacted One Medtronic Diabetes Employee
Medtronic recently kicked-off a 3-year partnership with JDRF by sponsoring a team of riders at the JDRF Ride to Cure in Amelia Island, FL. To help increase awareness and participation, Medtronic invited employees to enter for a chance to join the cycling team in Florida. Over 80 employees applied. Today, we'd like to introduce you to Keely Ryan, a Regional Field Marketing Representative who took part in the ride and what participating in such an inspiring event meant to her. 
Being new to the Diabetes division and wanting to learn more about JDRF, I eagerly signed up for the chance to win a spot on the Medtronic Ride to Cure team, which includes biking 100 miles. Since I NEVER win anything, I was a bit unprepared to be selected!  But, once I found out that I was chosen, I was excited to take part in the ride, that helps raise money for people living with type 1 diabetes.

Upon arriving in Amelia Island, I was immediately impressed and proud to be part of a team of Medtronic cyclists which included 7
Medtronic employees living with type 1 diabetes. Participating in endurance events requires a lot preparation and considerations concerning hydration and nutrition so adding the management of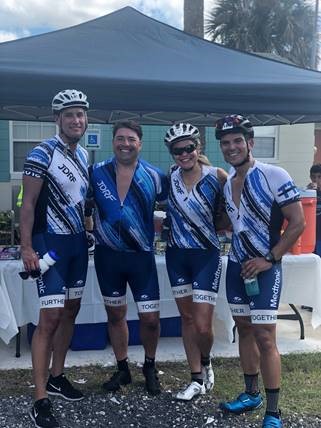 diabetes, is no small feat.
During the ride, I was very impressed with the spirit, tenacity and team work across the Medtronic team. I had the opportunity to ride with 3 other Medtronic employees who helped each other get through the long day of biking- there were times each of us needed support to reach the finish line.  It was really a team effort that allowed me to cross the finish line. I was most impressed with our fellow rider, Steven, who has type 1 and not only completed 100 miles, but managed to stay in range the entire ride. For me, it made me realize how important the work we all do is, and how much our  technologies can assist people living with diabetes.
Once we finished, we were reunited with the Medtronic team to attend a celebratory dinner. During the dinner, our 7 type 1 colleagues were highlighted and accepted the Corporate team award for Medtronic. I was also able to meet our employees who are parents to children living with diabetes and rode on their behalf. I was so touched by the unrelenting and unconditional love. Their stories of starting to ride after their children were diagnosed to help raise money and awareness for type 1 and to find a cure for their children, was so inspiring.
This was an amazing experience and I am very thankful to Medtronic for supporting a team of riders to increase awareness and participation for JDRF. I've worked for Medtronic for 12 years but am new to the Diabetes division. Throughout my time, I can honestly say this event was the most inspirational and memorable experience that I have participated in. Cycling 100 miles (it was actually 105!) with your colleagues, fosters lasting memories and friendships. But, biking for a greater cause and seeing how it impacts my colleagues and their children's lives, is something I'll never forget.
Tags:
bike ride
,
diabetes
,
diabetes management
,
insulin pump
,
JDRF
,
Medtronic
,
Ride to Cure
,
T1D
,
T2D