How Being in Control Helps Me Be a Superhero Mom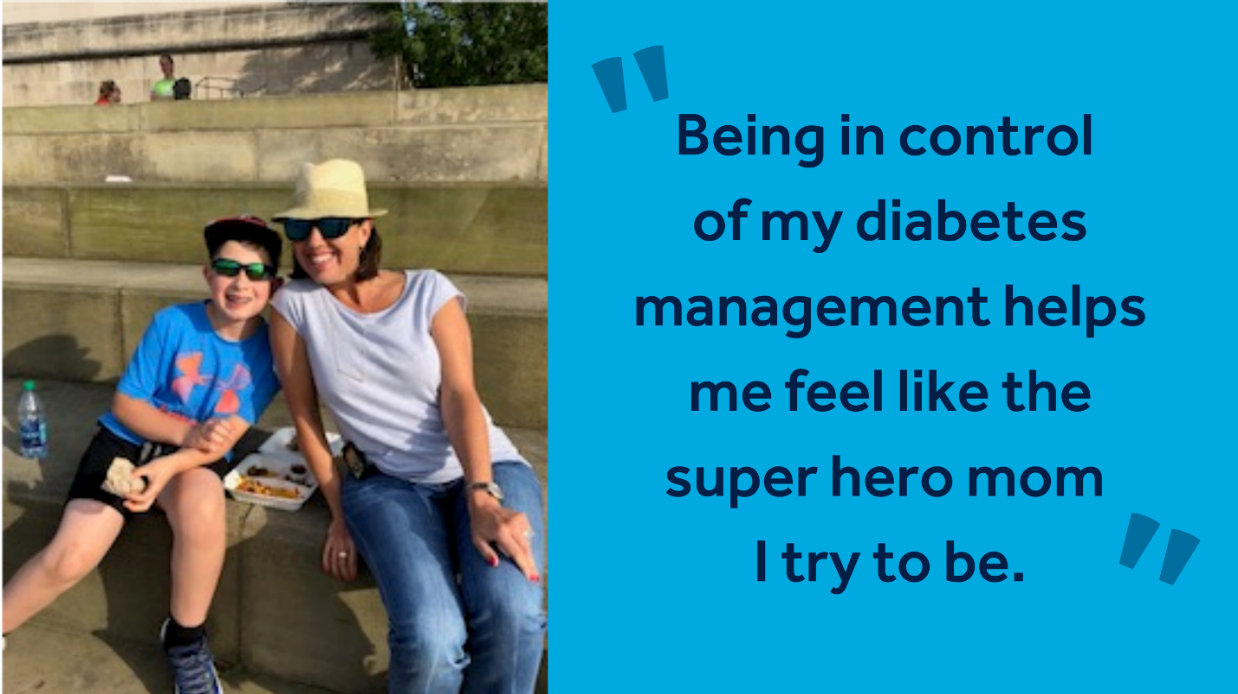 Today, we'd like to introduce you to Medtronic Diabetes Ambassador, Melanie, to share her story!
Q. Share a little bit about yourself.
A. I'm a mom, wife, and social worker. I live in Pennsylvania. My son plays hockey, so my weekends are filled with traveling for hockey. I am very active with my local JDRF chapter. I also enjoy walking for exercise—I am a fixture in the neighborhood, and I think I know every dog in the area at this point.
Q. How long have you had diabetes and what are some of the therapies you've used to manage your diabetes?

A. I was diagnosed at the age of 15. Being diagnosed as a teenager is slightly different than being diagnosed as a young child. At the time of diagnosis, I thought I knew everything and could take care of everything myself. I was an unstoppable, all-knowing teenager. That is how I took ownership of my diabetes care from the day of diagnosis. Thankfully, I have great parents who knew my personality and were able to let me take ownership. They were vigilant watchdogs making sure I was ok, but also knew how to let me be in the driver seat and manage my disease. They will tell you I was always stubborn, and they were well equipped to handle my demand of managing this disease on my own (at least I like to think it was on my own).
I am approaching my 30-year anniversary of having diabetes. It is amazing to see how much technology has changed since my initial diagnosis. At the time of diagnosis, I started with manual injections. Pump therapy was just becoming more common when I was in my twenties. Once I started pump therapy, it was a game changer. I have always used Medtronic products, and I remember the excitement I had when I started using my first pump. For the first time ever, I was able to be spontaneous. I remember my boyfriend (now husband) calling me at work to invite me on an unplanned dinner date and being able to say "yes!" That freedom with a pump was such an exciting feeling. To be a little normal and a little spontaneous felt so good. That feeling and excitement is still in my heart as being a life-changing moment.
Q. What is most important to you when thinking about how to manage your diabetes?
A. When I think about managing my diabetes over the last 30 years, the item that has become most important to me is living as normally as possible I do not want to constantly think about the disease. I also don't want my family to constantly worry about my health and well-being. The constant changing and evolving of technology is a breath of fresh air. I have seen it evolve from wearing a sensor 10 years ago, until now with sensors that provide pump integration. It is amazing.
Q. How do you think the MiniMed 670G system has impacted your diabetes management?
A. I have used 4 Medtronic pumps and 3 types of Medtronic sensors—each model improving and building on the technology. One of my favorite features of the pump is the ability for it to do some of the thinking for me. I love to take evening walks. This is my main form of exercise. I love to throw my ear buds on and go for a walk in the neighborhood. Before the MiniMed 670G system, I would make sure I had just eaten or that I had a pouch with emergency low blood sugar snacks available. Now with the MiniMed 670G system, I have more confidence. I can set a Temp Target rate for the activity and the system will automatically adjust and provide less insulin if that's what I need1. The ease of functions on the pump are quick to access and easy to use.
The biggest impact the MiniMed 670G system has had on me, is my confidence to participate in activities where the fear of lows is reduced.
Q. Diabetes can definitely impact the whole family. As a mom, how important is it to you to have control of your diabetes?
A. My family is my most important priority. My husband and son are my biggest supporters. They accept
me when I have a low blood sugar and say things with a short tone. They show empathy when I argumentatively shrug off their suggestions and advice to drink juice. My family sometimes mockingly calls low-blood-sugar-Melanie, "Angry Mom." "Angry Mom" is very different than my normal disposition. The MiniMed 670G system has helped in so many ways by reducing the amount of times I become "Angry Mom." I finally have the confidence to go on adventures with just my son and I because I am confident "angry mom" will stay at bay. Being in control of my diabetes management helps me feel like the superhero mom I try to be. One of my personal goals is to take my son on a hockey trip by myself. I want the chance for a mother-son bonding weekend over hockey. With the MiniMed 670G system, I am confident I could do it.
Q. What would your husband say about your diabetes since going on the MiniMed 670G system?

A. My husband is such a rock for our family. He has always picked up the pieces when I was not feeling well from a low or high blood sugar. He likes to see me happy and smiling and he knows I am smiling ear to ear while just enjoying life. These smiles are because I am not worrying about consequences or unknowns. He knows I am living with a little less worry and a lot more confidence.
Q. November is Diabetes Awareness Month. What is one thing you'd like others to know about diabetes?
A. One thing I'd like people to know is even though T1Ds make it look it easy to manage, it is not. It takes vigilance from the T1D and their support system. Every day we try to be as "normal" as possible, participate in activities, and just enjoy life's journey. Every day we spend a lot of time calculating and managing the disease and preparing for consequences. The advances in technology help to improve our quality of life, but a cure would be my hope for the future. The technology does not erase the disease, but it certainly helps me live with a few less worries.
1 Refers to Auto Mode. Some user interaction required. Individual results may vary.
The testimonial above relates an account of an individual's experience using a Medtronic device. The account is genuine, typical and documented. However, this individual's experience does not provide any indication, guide, warranty or guarantee as to the response or experience other people may have using the device. The experience other individuals have with the device could be different. Experiences can and do vary. Please talk to your doctor about your condition and the risks and benefits of Medtronic devices.
Important Safety Information
MINIMED 670G SYSTEM
The Medtronic MiniMed™ 670G system is intended for continuous delivery of basal insulin (at user selectable rates) and administration of insulin boluses (in user selectable amounts) for the management of type 1 diabetes mellitus in persons, seven years of age and older, requiring insulin as well as for the continuous monitoring and trending of glucose levels in the fluid under the skin. The MiniMed™ 670G system includes SmartGuard™ technology, which can be programmed to automatically adjust delivery of basal insulin based on Continuous Glucose Monitor sensor glucose values and can suspend delivery of insulin when the sensor glucose value falls below or is predicted to fall below predefined threshold values. The system requires a prescription. The Guardian™ Sensor (3) glucose values are not intended to be used directly for making therapy adjustments, but rather to provide an indication of when a fingerstick may be required. A confirmatory finger stick test via the CONTOUR®NEXT LINK 2.4 blood glucose meter is required prior to making adjustments to diabetes therapy. All therapy adjustments should be based on measurements obtained using the CONTOUR®NEXT LINK 2.4 blood glucose meter and not on values provided by the Guardian™ Sensor (3). Always check the pump display to ensure the glucose result shown agrees with the glucose results shown on the CONTOUR®NEXT LINK 2.4 blood glucose meter. Do not calibrate your CGM device or calculate a bolus using a blood glucose meter result taken from an Alternative Site (palm) or from a control solution test. It is not recommended to calibrate your CGM device when sensor or blood glucose values are changing rapidly, e.g., following a meal or physical exercise. If a control solution test is out of range, please note that the result may be transmitted to your pump when in the "Always" send mode.
Pump therapy is not recommended for people whose vision or hearing does not allow recognition of pump signals and alarms. Pump therapy is not recommended for people who are unwilling or unable to maintain contact with their healthcare professional. The safety of the MiniMed™ 670G system has not been studied in pregnant women. For complete details of the system, including product and important safety information such as indications, contraindications, warnings and precautions associated with system and its components, please consult http://www.medtronicdiabetes.com/important-safety-information#minimed-670g and the appropriate user guide at http://www.medtronicdiabetes.com/download-library
Tags:
control
,
mom
,
parenting
,
T1D
,
type 1 diabetes