Getting to Know Dr. Robert Vigersky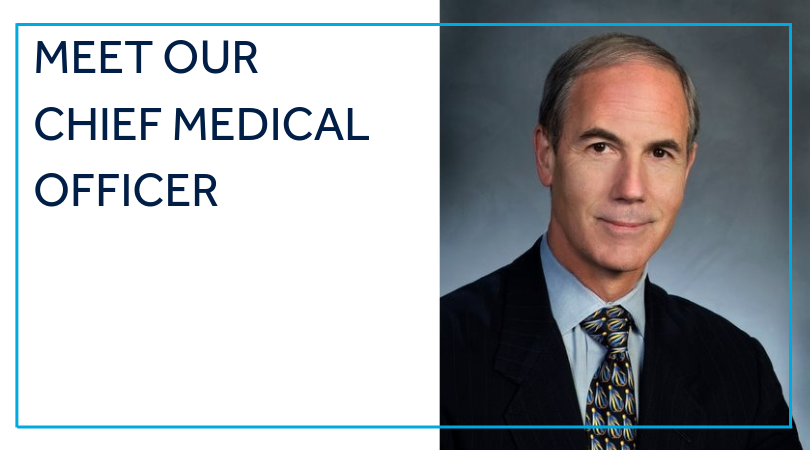 The Diabetes Group at Medtronic is full of people who are pushing the status quo to help those living with diabetes live healthier lives. Today, we'd like to help you get to know Dr. Robert Vigersky, our Chief Medical Officer. Dr. Vigersky plays a leading role for us in leading our clinical work and serves on dozens of international committees and boards in the fields of diabetes and public health. Today, we'd like for others to get to know him, so we've asked him to join us for a Q&A.
Q: What were some of your career highlights before Medtronic?
A: After graduating from Boston University School of Medicine, I did my internal medicine training at The John Hopkins Hospital and completed a 3-year fellowship in endocrinology at the National Institute of Health (NIH). After spending 27 years at Walter Reed National Military Medical Center, my career highlight was establishing the Diabetes Institute where I had leadership support in establishing a center of excellence on how to treat chronic disease. The Diabetes Institute was meaningful to me because I had the opportunity to build something from scratch. The framework developed there become a program model in both the military and civilian world on how to leverage the expertise of specialists in short supply into the primary care community.
I also served as president of the Endocrine Society from 2009-2010 which was an immense honor. My proudest achievement with the Endocrine Society was establishing their Clinical Practice Guideline program which provided an immense benefit to endocrinologists to help them be their best and most effective with their patients.
Q: What made Medtronic stand out to you among other companies in the diabetes space?
A: I joined Medtronic in 2015 because there was no question in my mind that Medtronic was the most exciting place to be. Prior to Medtronic, I was doing research about technology in treating diabetes, so I was familiar with the major diabetes companies. The ability to work with people in the prime of their careers with great ideas — a group of amazing researchers, engineers and clinical experts — couldn't be compared with anywhere else.
Q: What made you want to work in endocrinology and help people with diabetes?
A: Endocrinology is the most fascinating specialty in medicine. Hormones affect every organ in the body and when dealing with any hormone disorder, you need to understand all its impacts to all the organs of the body. Endocrinologists are medical detectives, calling upon a large knowledge base to figure out what's gone wrong and how to best treat it. Diabetes specifically has undergone an immense transformation in the last 20-25 years because of availability of new drugs, new approaches and new technology. Plus, diabetes (both type 1 and type 2) represent the greatest number of people impacted by a hormonal disease. It's an amazing opportunity to make a difference on both an individual and population basis.
Q: What are some of the most important innovations that have improved diabetes management today?
A: Technology has made so much possible today that we could only dream about decades ago. For example, continuous glucose monitoring (CGM) has shed light on previously undetectable trends in glucose variability. Thanks to CGM technology, we have a new metric to assist in making diabetes decisions – Time in Range. The rich data set that CGM provides has also helped further so much clinical research on diabetes and its short and long-term impacts on health.
The availability of more diabetes data has also allowed the field of data science to become an important new avenue for diabetes break-throughs as we explore how machine learning and artificial intelligence can play an important role in more effective, and less burdensome, diabetes management.
Q: How do you hope diabetes care evolves over the next 5 years?
A: I feel that we're on the cusp of breakthroughs that will make living with diabetes easier. Artificial intelligence will help relieve the cognitive burden so that people won't need to think about their diabetes all the time. Innovations in hardware will make diabetes technology simpler to use, more comfortable to wear and increasingly discreet. Overall, I believe we're going to achieve superior clinical outcomes with less work needed by patients to achieve those outcomes.
Q: Tell us about a past patient story that's made a lasting impact on you.
A: Recently, a patient I've been following for 15-20 years with type 1 diabetes reached out to me. He's been on a pump for 10 years and he finally started on the MiniMed 670G system. He sent me the following note:
"You and your staff at Medtronic deserve extreme congratulations for creating the 670G.  You must have had 2 to 3 meetings per hour to figure this genius of a pump out. What a great time to be alive and enjoy."
I'm in awe of how my patients can benefit from technology and think everyone deserves the best care available. As health care providers, we owe them the highest-level quality care that we can give, and today's newest technologies allows us to do that.
Important Safety Information
The Medtronic MiniMed™ 670G system is intended for continuous delivery of basal insulin (at user selectable rates) and administration of insulin boluses (in user selectable amounts) for the management of type 1 diabetes mellitus in persons, seven years of age and older, requiring insulin as well as for the continuous monitoring and trending of glucose levels in the fluid under the skin. The MiniMed™ 670G system includes SmartGuard™ technology, which can be programmed to automatically adjust the delivery of basal insulin based on Continuous Glucose Monitor sensor glucose values,and can suspend delivery of insulin when the sensor glucose value falls below or is predicted to fall below predefined threshold values. The system requires a prescription. The Guardian™ Sensor (3) glucose values are not intended to be used directly for making therapy adjustments, but rather to provide an indication of when a fingerstick may be required.
A confirmatory finger stick test via the CONTOUR®NEXT LINK 2.4 blood glucose meter is required prior to making adjustments to diabetes therapy. All therapy adjustments should be based on measurements obtained using the CONTOUR®NEXT LINK 2.4 blood glucose meter and not on values provided by the Guardian Sensor (3).  Always check the pump display to ensure the glucose result shown agrees with the glucose results shown on the CONTOUR®NEXT LINK 2.4 blood glucose meter. Do not calibrate your CGM device or calculate a bolus using a blood glucose meter result taken from an Alternative Site (palm) or from a control solution test. It is also not recommended to calibrate your CGM device when sensor or blood glucose values are changing rapidly, e.g., following a meal or physical exercise.  If a control solution test is out of range, please note that the result may be transmitted to your pump when in the "Always" send mode.
Pump therapy is not recommended for people whose vision or hearing does not allow recognition of pump signals and alarms. Pump therapy is not recommended for people who are unwilling or unable to maintain contact with their healthcare professional. The safety of the MiniMed™ 670G system has not been studied in pregnant women. For complete details of the system, including product and important safety information such as indications, contraindications, warnings, and precautions associated with system and its components, please consult http://www.medtronicdiabetes.com/important-safety-information#minimed-670g and the appropriate user guide at http://www.medtronicdiabetes.com/download-library
Tags:
670G
,
blood sugar
,
diabetes
,
medical director
,
Medtronic
,
minimed
,
minimed 670g
,
Robert Vigersky
,
type 1 diabetes