Celebrations Around the Globe for World Diabetes Day
As many of you know, November is national Diabetes Awareness Month. In honor of this year's event, we explored the International Diabetes Federation (IDF) theme of the Family and Diabetes. World Diabetes Day takes place on Nov.14 every year with Diabetes Awareness Month occurring every November across the U.S.
In the United States, Medtronic focused on stories about the caregivers for family members living with
diabetes. This included stories about a superhero mom and hearing from a panel of employees and a physician on how diabetes impacts their families. Employees in Northridge, Calif. assembled for a blue circle video and our San Antonio, Texas facility lit their building in blue to honor the day. In both locations, we also set up selfie stations for employees to take photos and post them to show their support for diabetes awareness. Finally, we encouraged employees to take the American Diabetes Association's Diabetes Risk Test to assist with determining if they are at risk of developing type 2 diabetes.
In Canada, employees wore blue circle pins along with a pair of Medtronic mittens with the blue circle embroidered on them, which were sent out to the entire team. Wearing their pins and mittens, the team gathered to hear stories from families impacted by diabetes and to take part in awareness walks.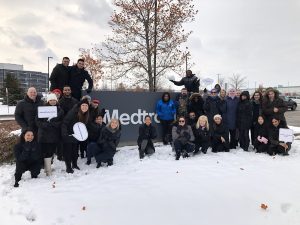 In China, Medtronic marked the occasion with a T1D cooking show where more than 30 adults living with T1D gathered in Shanghai on Nov. 17 for a half-day cooking competition and diet-related quiz contest held by the Greater China Diabetes team. Three prominent local endocrinologists officiated the event and provided dietary advice particularly for those using insulin pump therapy. The China team also echoed the "Family and Diabetes" 
theme of World Diabetes Day by organizing trial use of iPro 2 professional CGM among a few employees and their immediate family members, distributor employees, and their immediate family members.
In Australia, the team partnered with the DANII Foundation Charity to hold the Children of Courage dinner in Sydney for close to 140 attendees. Stephanie Brantz, an Australian sports presenter, hosted the event with Rob Palmer, our Diabetes Patient Ambassador, presented the Child of Courage awards to several young children and young adults for their tremendous courage in managing their type 1 diabetes.
Japan invited the vice chairman of one of the largest T1D patient advocacy groups to share his story with 70 of our employees, including his experience with the Guardian Connect system.
In Korea, our Medtronic employee, Jeena Kim, received an award at the local World Diabetes Day
event by Korean Insulin Dependent Diabetes Association. She was recognized for her contribution to enhance the lives of people living with diabetes.
In Thailand, Princess Soamsawali, the Princess Suddhanarinatha and Princess Bajrakitiyabha Narendira
Debyavati opened the World Diabetes Day 2019 at Bhumisiri Mangkhalanusorn Building in Chulalongkorn Memorial Hospital in Bangkok. Medtronic Thailand was at the event and showcased the Guardian Connect system and other technology to raise awareness of diabetes care.
In Manila, the Medtronic Manila Customer Care and Shared Services Team showed their support for the diabetes community by wearing blue shirts, putting the word of "hope" onto their palms while sharing
sugar-free blue cupcakes to show our unity in raising awareness for diabetes prevention.
In Singapore, our team participated in an art workshop to mark World Diabetes Day at Singapore General Hospital where we painted together with the patients to show support for those living with the condition.
In our Swiss office (Medtronic headquarters for Europe, Middle East & Africa), a large panel especially developed for World Diabetes Day was displayed, along with the "Inspired by Cyril" video.
In Italy, we celebrated World Diabetes Day inside and outside Medtronic. Internally, the team organized a special web radio broadcast. Employees were encouraged to check their blood glucose and assess their risk factors for type 2 diabetes. The Italian team also had the opportunity to volunteer to support a special initiative in two hospitals.
In France, Medtronic Diabetes collaborated with two bloggers to launch a special competition. People living with diabetes, care providers and families were encouraged to enter a design competition by creating designs for insulin pump stickers and pen kits. The contest was promoted internally, on our social networks, the parlonsdiabete.com website and via bloggers. You can find more details here.
In Portugal, World Diabetes Day was promoted on LinkedIn with some key global and local facts to raise awareness around diabetes.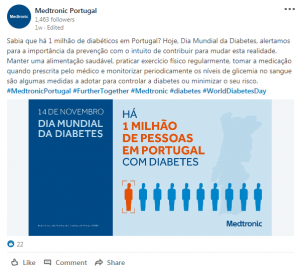 In Russia, we invited three people living with diabetes to share their stories. This event took place in Kaliningrad on November 17th, and a press briefing was organized during the event to raise awareness of diabetes. This resulted in more than 30 publications in the media, one TV story, two interviews on the "Silver Rain" radio, and three interviews with key opinion leaders.
In Belgium, World Diabetes Day was the perfect time for an internal diabetes awareness campaign. Employees were offered tools and recipes to manage blood glucose levels and prevent type 2 diabetes.
All around the world, we looked for ways to celebrate World Diabetes Day and pay tribute to all the amazing people living with diabetes who inspire us every day. Diabetes is our focus every day, so it's nice to see it in the spotlight. We can't wait for next year!
IMPORTANT SAFETY INFORMATION
The Guardian Connect system requires a prescription and is indicated for continuous or periodic monitoring of glucose levels in the interstitial fluid under the skin, in patients (14 to 75 years of age) with diabetes mellitus. The system is intended to complement, not replace, information obtained from standard blood glucose monitoring devices, and is not recommended for people who are unwilling or unable to perform a minimum of two meter blood glucose tests per day, or for people who are unable or unwilling to maintain contact with their healthcare professional. The system requires a functioning mobile electronic device with correct settings. If the mobile device is not set up or used correctly, you may not receive sensor glucose information or alerts. For complete details of the system and its components, including warnings, contraindications, and precautions, please consult the user guide at http://www.medtronicdiabetes.com/support/download-library/user-guides and http://www.medtronicdiabetes.com/importantsafetyinformation.
Tags:
awareness
,
diabetes
,
employees
,
non-profit
,
T1D
,
T2D