Blog Roundup: Summertime Water Tips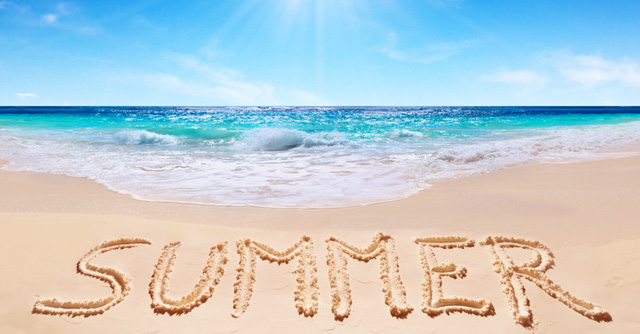 One of the first questions I had when I first got my MiniMed insulin pump was, "How do I wear my pump in places that have water, like a beach?" I soon found out that there are several options and sometimes it just takes some extra thought into how you're going to handle it – but a pump is no reason to miss out on a fun-filled beach day!
Today, I want to share a roundup of blogs with you on wearing your device around water and how important it is to not only be prepared for settings like the beach, but how to be prepared for the moisture you might not always think of, like sweat and steam.
1. Want some tips about wearing an insulin pump and infusion set on a hot day? You might like Tips for Preventing Moisture Damage to Your Insulin Pump.
2. Planning on taking a vacation that includes water activities? Read how Elisa protected her pump while repelling down 170 foot waterfalls in Great Vacations – Even Without a Vacation from Diabetes.
3. Curious about water in settings from showers to rainy days? Check out 4 FAQs About Water Activities.
4. Have you ever thought about the potential moisture in sauna and steam rooms? Read Preparing for a Wet and Wild Summer.
I hope you enjoy adding these to your Summer Reading List. If you have your own tips on keeping your insulin pump protected in wet settings like these, leave a comment! And remember: If you accidentally submerge your pump in water, dry the pump quickly using a soft, clean towel and verify that it is working properly by selecting "Self-test" from the pump's Utilities Menu. If you believe water has entered your pump or you observe any other possible pump malfunction, call the 24-Hour HelpLine at 1.800.646.4633, option 1.
IMPORTANT SAFETY INFORMATION
– Medtronic Diabetes insulin infusion pumps, continuous glucose monitoring systems and associated components are limited to sale by or on the order of a physician and should only be used under the direction of a healthcare professional familiar with the risks associated with the use of these systems.
– Successful operation of the insulin infusion pumps and/or continuous glucose monitoring systems requires adequate vision and hearing to recognize alerts and alarms.
Medtronic Diabetes Insulin Infusion Pumps
– Insulin pump therapy is not recommended for individuals who are unable or unwilling to perform a minimum of four blood glucose tests per day.
– Insulin pumps use rapid-acting insulin. If your insulin delivery is interrupted for any reason, you must be prepared to replace the missed insulin immediately.
Medtronic Diabetes Continuous Glucose Monitoring (CGM) Systems
– The information provided by CGM systems is intended to supplement, not replace, blood glucose information obtained using a home glucose meter. A confirmatory fingerstick is required prior to treatment.
– Insertion of a glucose sensor may cause bleeding or irritation at the insertion site. Consult a physician immediately if you experience significant pain or if you suspect that the site is infected.For more information, please visit:
MedtronicDiabetes.com/isi
.
Tags:
523
,
723
,
infusion sets
,
insulin pump
,
water resistant
,
waterproof